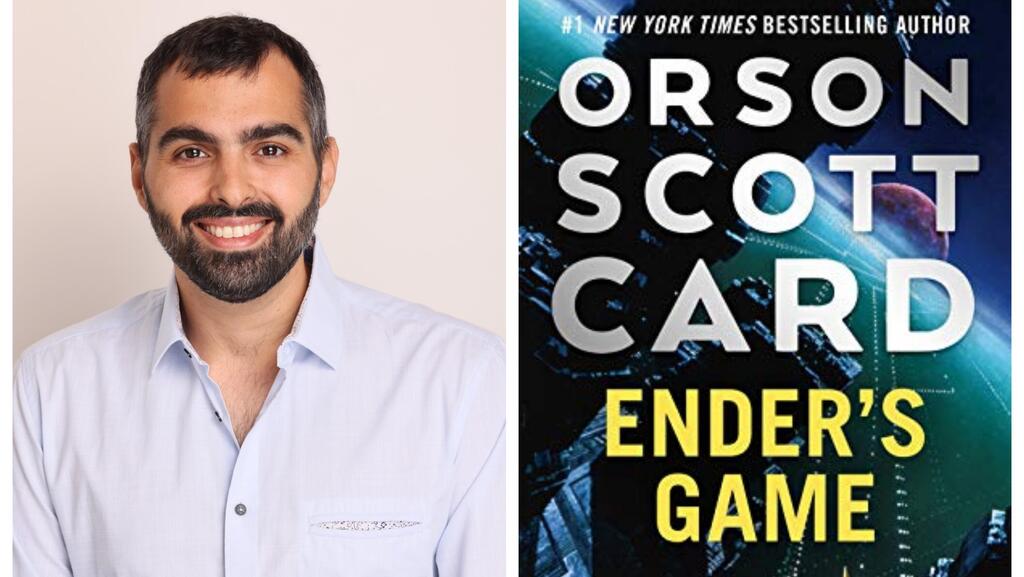 BiblioTech
CTech's Book Review: Empowerment and autonomy inspired by Sci-Fi
Raz Abramov, Founder and CTO of EverC, shares insights after reading "Ender's Game" by Orson Scott Card
Raz Abramov
|
09:07 02.05.2022
Raz Abramov is the Founder and CTO of EverC, a provider of cyber intelligence allowing banks and payment service providers (PSPs) to manage merchant-based fraud and cyber risk. He has joined CTech to share a review of "Ender's Game" by Orson Scott Card.
Title: "Ender's Game"
Author: Orson Scott Card
Format: Book
Where: Home, Vacation


Summary:
"Ender's Game" is a science fiction novel published in 1985. It takes place in an unspecified Earth's future when Earth is in conflict with the Formics (or in their unofficial name, 'buggers'). To prepare for their third invasion, Earth's military commanders recruit and train children to be the next generation of military strategists. The novel's protagonist, Andrew "Ender" Wiggin, is selected to lead the invasion and the book tells the story of his training.
Throughout the book, Ender is requested to play a series of increasingly difficult war games. In these games, his tactical ability and leadership skills develop and he learns to lead his peers in increasingly difficult situations and achieve victory.
Important Themes:
Throughout his training, the school's staff make a point to never provide any assistance for Ender, even when he's facing difficulties from his peers. This is done to 'force' him to handle difficulties head-on. While this is an extreme version, when mentoring people, the main thing you can teach them is how to solve problems on their own. Once a person stops waiting for the answer to come from his manager (or peer), they are empowered to take ownership of their own domain.
Some of Ender's greatest wins came when presented with seemingly impossible problems to solve (fights to win). Not even the school's commanders had the solution in mind, nor were they even certain there is one. The only way to achieve great things, and to uncover the hidden talent within people, is to continuously push them beyond what they – or even you – think is possible. You will be surprised by the things people come up with when given such challenges.
Throughout his training, Ender slowly earns the trust of his peers. He does this not by socializing or personal favors, but by constantly being the best at what he did. In tech leadership positions, and especially in Israel, the manager must earn the respect of his team by showing them how he can help them learn and grow.
When presented with increasingly complex situations, Ender knew he could not control every small detail on his own. The solution for that was delegating control over smaller tasks to his subordinates. He guided the overall strategy, and his team had to resolve the smaller issues on their own. To move fast (and this is a theme in many successful tech companies), teams within an organization must have empowerment and autonomy to resolve issues within their domain. It is the leadership's role to make sure all teams are aligned to the same north star.
What I've Learned:
While taken to the extreme in the book, the leadership development principles presented can be used as guidelines for the development of yourself, as well as others.
Building your character is the hardest and most important thing you will do in your life. If you are fortunate enough to help others in their journey, you need to allow them to help themselves. Guiding people and teams involves constantly reminding them they need to learn how to help themselves. It is an inflection point you can almost see when a person starts tackling issues on their own and becomes truly independent.


From a small team to a large organization, the best performance is achieved when the leader provides context and mentoring and allows the underlying teams or people to own the problems and solutions themselves. Once you achieve that the organization can move forward under the same north star, and present solutions to problems that otherwise would have been considered impossible
Who Should Read This Book:
First and foremost, if you are a sci-fi fan, this is a must for you.
I'd recommend this book to people who seek to learn how to become better leaders, and how to help their peers achieve the same.
Oh, and the movie, however entertaining, pales in comparison!