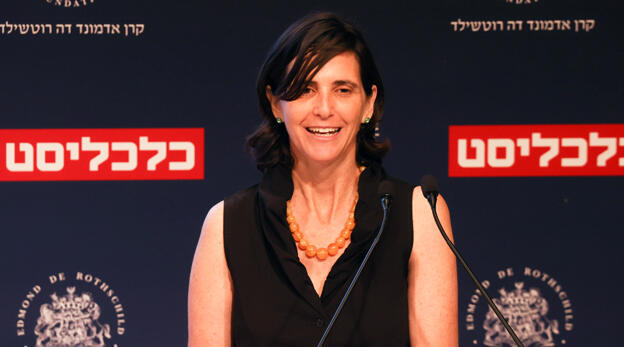 "More employers choose to focus on hard skills and less on academic background"
Ilil Amir-Kasif, the Director of the Center for Higher Education and Employment, founded by the Edmond de Rothschild Foundation, was speaking during Calcalist's "Academia that Works" conference
Calcalist
|
13:28 24.05.2022
"There is a need to connect the dots between education and employment to ensure that academia's core will have an in-depth grasp of the outside world and its needs, the constantly-changing knowledge, the skills needed, and corporate culture. The employment industry must be more involved in academia too, especially in its content and exposure," said Ilil Amir-Kasif, the Director of the Center for Higher Education and Employment, founded by the Edmond de Rothschild Foundation during Calcalist's "Academia that Works" conference held in collaboration with the Edmond de Rothschild Foundation at the Eretz Israel Museum in Tel Aviv. She believes that this will "help alumni better transition from academia to the workforce, and become more creative and successful employees who know how to navigate their employment journey and grow, regardless of where they are from. In addition, it will lead to enriching academic knowledge and inspiring more innovation in research."
Amir-Kasif thinks that academia in Israel must "rethink its direction," since there is a complete disconnect between it and the world outside. The traditional accepted belief states that "that line can only be crossed in one direction" i.e. from academia to employment, and no longer suits these times.
Amir-Kasif brought some examples from the employment sector which hint that the actual issue stems from the dissonance between academia and employment. "In Israel in 2022, almost 50% of young people head straight to academia. Shiri, 27 from Hadera, listened to her father who said 'China is the future,' and went on to pursue a degree in East Asian Studies. When she graduated, she realized that although she is well-acquainted with Chinese history and speaks Chinese, it isn't enough for her to work with Chinese companies. The employers who she thought would prefer her, hired others who don't possess a college degree, but lived in China, are fluent in the language, and familiar with the culture." She thinks that "these stories back the figures that show that in Israel 32% of employees are overqualified in terms of higher education, (compared to 22% of overqualified employees in other OECD countries); and 36% of academic graduates in Israel see no correlation between their actual employment and academic studies.
Amir-Kasif emphasized that aside from these accounts, some young people choose not to pursue academia and still managed to achieve major work-related accomplishments. "On the other hand, some young people are filled with offers from leading companies who have programs for non-academics or teach those with potential what they need to know to integrate into the company. The problem is becoming more complex, because leading companies are establishing research bodies and labs, which compete with academic innovation centers," she said.
However, she believes that the solution lies in a more strategic and holistic view of higher education and employment, which is the idea behind the academic center she manages that is attempting to bridge the gap between academia and employment, encourage social mobility, close socioeconomic gaps, and increase productivity.