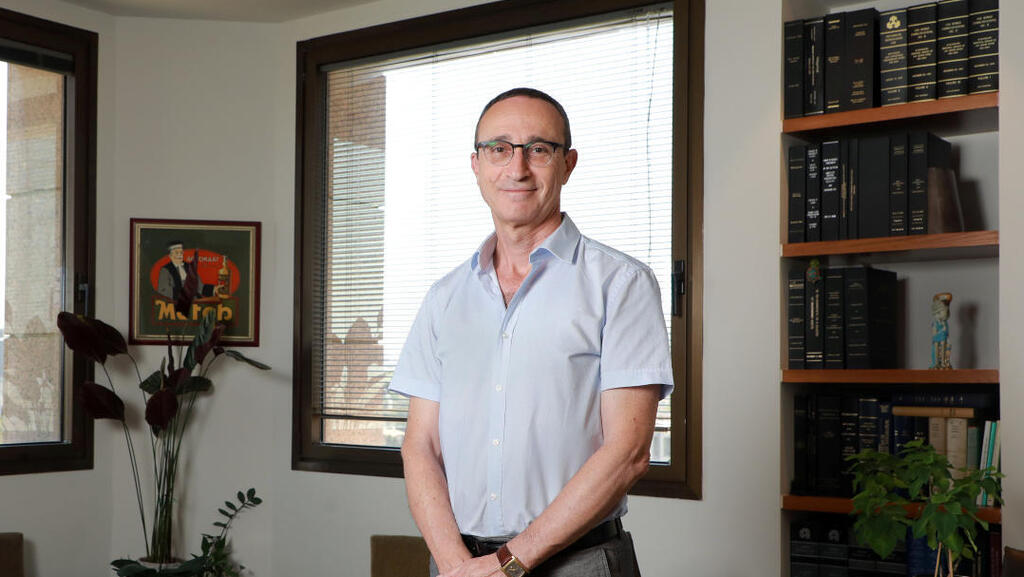 Interview
"We are working on the sale of 20 startups, including unicorns"
Adv. Dan Shamgar, a consigliere to many of Israel's high-tech startups, added that some companies are already running out of cash, but that entrepreneurs are not panicking just yet
Sophie Shulman
|
19:23 09.06.2022
Adv. Dan Shamgar is a Senior Partner at Meitar, the largest law firm in Israel whose clients include a large number of unicorns, technology companies that are traded on Wall Street and also startups.
What is the level of stress among your clients?
"I don't see stress and don't see people in a panic, but everyone wants to know how they should manage themselves. Everyone wants to know what is happening with the others in order to make decisions. Maybe people are sweating in their beds at night, but in front of me I see them rational and focused. And yet this is not an event that resembles the bursting of the dot.com bubble. In the previous bubble in technology I was in New York and saw valuations unrelated to reality. This is not the case today. Most Israeli companies are developing significant and innovative technologies, so for many of them the test of the near future will be difficult, but the business is real."
How many are considering cuts?
"I'm not seeing much talk of cuts at this point, but more regarding the updating of plans going forward. If a customer planned to set up an activity somewhere and recruit people there, now they are asking themselves again how urgent it is. Maybe it's worth it to wait or invest different sums. Maybe the cuts will come, but in the meantime I'm only seeing a freeze to look at and reconsider expansion plans. In many cases, it is also a matter of rethinking long-term goals, the possibility of merging or collaborating with another company, and refocusing development and marketing activities. An essential part of the DNA of Israeli entrepreneurs is the ability to respond to changing circumstances. Now there is a chapter in the evolution of the industry in which they will examine how they conduct themselves under financial siege."
How do you get out of this siege? This is an industry that is responsible for a major part of the growth of the Israeli economy.
"I really believe in the industry that it will overcome the crisis and emerge stronger from it. Our problem is not there, but in the future: high-tech today does not reflect the education system, but is a sprinter running ahead. The most pressing social and political challenge is in creating an education system that will train the next generation of growth engines. We also need to create accessibility to high-tech to wider circles. Maybe this will also erode the elitism that the industry has come to be known for."
Did you expect what's happening now?
"I am old and experienced enough to know that there is no such thing as an economy that just rises. I had some difficult conversations with entrepreneurs six months ago when I told them: 'It is better for you not to raise at such a high value'. I tried to explain that it could put them in a certain trap later on and there were entrepreneurs who realized that it was more important who would be the investor accompanying them down the road, even if it was at the cost of giving up a few percent of the company's value. But this is not an easy conversation to conduct. There were also negotiations to acquire companies that had reached too high value levels and I knew it was already endangering the acquiring company."
What have you heard from your companies in the last month?
"It's been more than a month. It's been clear for a while that the availability of capital will be different. For both entrepreneurs and investors it is clear that the safety net of cash in companies is critical, because it is not clear how much money can be raised, and if so, at what value. Investors prefer not to put more money in companies they are not sure about."
"The killer entrepreneur will have to give up something"
Are there transactions that have been frozen?
"We have definitely seen deals that have changed. Last year the companies received a variety of offers from investors and chose from them, and now the alternatives are limited and the offers are modest. The processes take longer and the decisions are more difficult: when you have four offers that are four times the amount of the previous fundraising amount, it's easy. But the values placed on the table today by investors are much more modest. I have not yet seen a lower value than the previous round, but it will come. If the value was high in the previous round then it is inevitable. In such situations it is sometimes better to raise debt and I'm already seeing that. This is also one of the positive signs in Israeli high-tech: In the past, debt providers treated high-tech companies as risky and today it is different, and there are many entities that want to give them a loan, especially foreign banks."
Usually in periods of weakness there are more mergers and acquisitions, do you already notice an increase in such activity?
"For years I tried to preach in favor of acquisitions and it has started to happen in recent years. Now it can be a good solution to financial distress. It should be remembered that not every such deal is an exit, but a merger to realize the potential of two Israeli companies and create a power multiplier. But such deals require maturity from entrepreneurs who are always expected to be killers and here they have to give up something.
"We are already seeing significant activity in the field of mergers and acquisitions. This is something that will characterize the coming period, this will be a year of mergers. We in the firm are currently working on 20-25 purchase deals, some of which will be smaller, but there will also be deals in the billions for the sale of unicorns. Lately we are seeing a significant presence of investment funds looking to acquire companies to make them better and private again. That does not mean there will be more deals this year than in 2021, but the signal I see is that it is becoming a more relevant issue."
Are there many situations in which companies either have to merge or shut down?
"There are situations where you find yourself in a corner, you may not have managed the company correctly up to that point and you are in trouble. There are already companies that have run out of money so they must do something. Here it is also important who the investors are. Foreign investors with big checks have pulled the market up, but sometimes you find better partners among those placing lower bids. Now the investor needs to be the one who does not take advantage of the weakness, and this is the test. There is not necessarily a dichotomy between Israelis and foreigners, but between opportunists and investors who are strategically committed to Israel for the long-term."
"Secondary is not a bad word"
What about secondary deals that became popular in the good times and allowed veteran employees and shareholders to get money relatively quickly?
"Secondary deals have not disappeared, they exist but in more modest dimensions. There is a preference today in raising capital that will all go into the company. The pendulum is now going in the other direction, but secondary is not a bad word and there is an understanding that liquidity should be given to veteran shareholders, even if not of the same order of magnitude. If you tell an employee that the IPO will be postponed for three years and they have been working at the company for five years, it is clear that they should be allowed to cash in something, so even in a shrinking market there is room for secondary deals."
And secondary deals initiated by employees?
"The phenomenon of sporadic sales by employees to funds has become more widespread. The culture today is less to interfere in the life of the employee."
And what is the situation in the SPAC sector? You accompanied most of the Israeli SPAC mergers, including ironSource, Cellebrite and Innoviz. You do not feel any particular guilt over these inflated offerings?
"The investors who participated in these issues did not go like sheep to the slaughter, they are not stupid. They made business decisions about investing in these companies, knowing that the chances the companies will not meet their forecasts are high, but if they do meet the forecasts - they will reap the rewards. Some companies came to us because we specialize in Wall Street and some of them were with us beforehand. It is true that now the model of SPACs is in question and I doubt that even those with us who are still in the process will complete it. It is also clear to everyone that the value in the SPAC deal does not reflect the company's true value."
How long do you think the difficult market will last?
"If I knew, it would be advice worth a lot of money. And yet Nasdaq today is more or less in its pre-pandemic state, so our situation is not so terrible. And I, too, am constantly looking at things in the perspective of time, and the number of Israeli companies on Wall Street is unparalleled."