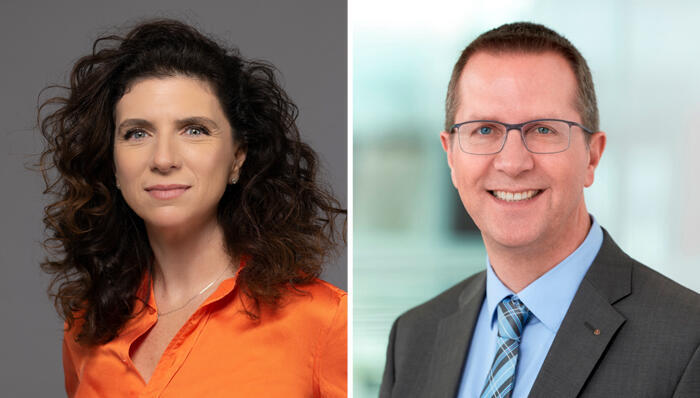 Interview
Better business: How SAP is making supply chains "greener"
"Sustainability is part of who we are. It sounds like a grand vision, but it's part of all the products we're delivering," says Orna Kleinmann of SAP
Yafit Ovadia
|
11:03 12.06.2022
Supply chain issues have wreaked havoc for most of the past two years. First, many blamed Covid-19, then a shortage of manpower, the rising costs of fuel, combined with other logistics failures, have halted supply chains from delivering products on time. SAP Software Solutions, a German corporation which helps companies better manage their logistics and supply chain issues, discussed how to optimize the process, while taking into account environmental and social values. By following ESG (Environmental. social, and Governmental) guidelines, the company is helping make supply chains "greener." And sustainability is the new name of the game, as more companies are being compliant with greener, friendlier, and more humane practices which SAP says leads to better business.
"Environmental awareness is part of our lives. Sustainability is part of who we are. While that sounds like a grand vision, it's changing the products we're delivering to our customers," Orna Kleinmann, CEO of SAP's R&D Center in Israel, told CTech in an interview. And the issue of sustainability ranks quite high on SAP's list. The company aims to be perceived as a role model in the sustainability category, and to that effect has already been listed as number one on the Dow Jones Sustainability Index for 15 years in a row, commented Daniel Schmid, who serves as the corporate's Chief Sustainability Officer at the company's headquarters in Walldorf, Germany.
"Sustainability has already touched a lot of us, and has evolved to be a very important factor in conducting business," he said. The company's software helps manage business processes, and financial and human resources, and is now working to take into account sustainability too. "Stakeholders have expressed an interest in seeing more companies become sustainable, it's a better business practice," added Schmid.
Setting new standards
Many companies have struggled with digital transformation, leading the supply chain to get backlogged. Companies have also struggled to adapt to the way routes are changing in light of both geopolitical and other worldwide events. From Covid-19 to a deteriorating economic situation due to the war in Ukraine, many companies need to constantly alter their routes to stay afloat and stay up to date with the times. But this has proved to be no simple feat. "Companies need to be more agile, and sometimes need to rebuild their business models. What worked for them in the past won't necessarily work for them today," said Kleinmann. And changing government regulations only make things trickier. Bringing sustainability into the picture sounds like a recipe for disaster, and yet, it actually helps streamline business networks to find suppliers quickly, get their data online in one place, and boost their company performance, she said.
That's where "green" supply chains come into the picture. That translates to companies who follow human rights and environmental guidelines. "For example, some companies in certain countries have modern labor laws protecting workers, such as outlawing slavery and treating their laborers fairly," said Schmid. Companies need to be compliant with these standards, and that makes them sustainable. "At SAP, we have a more holistic approach to creating a positive economic, environmental, and social impact on the planet," he added.
Companies then share their data, to ensure that they really are compliant with those standards. If not, they risk losing out on business. For example, in terms of environmental issues, large car manufacturers, like BMW, share data on both their upstream and downstream emissions - namely, all the CO2 emissions generated by the production of their vehicles and later use by customers. That way all parties are aware of how much CO2 is actually being generated from production. SAP is also trying to cut down on that use, by purchasing green electricity from renewable resources. The company has particularly ambitious plans in that regard, and aims to be at net zero emissions by 2030.
Better business
Israeli tech is working to make supply chains greener in several different vectors as well. "Israel has a lot of innovation in the area of sustainability, and we're seeing a lot of startups pop up in the climatech and foodtech areas, but the ecosystem - at least in Israel - is still small. Huge corporations aren't really dealing with this issue yet," said Kleinmann. "It's not like a quick sprint, where other tech companies develop an app and sell it to a giant corporation. With climatech, it's more like a marathon. And a lot of these climatech startups face regulations, or pivot. It isn't easy." On the other hand, she noted, there is a heavy use of artificial intelligence in cleantech solutions that are trying to optimize supply chain output and efficiency.
In that sense, SAP also has an accelerator that works directly with startups and connects them with customers to build better supply chain resilience. Some of those include Bringoz, an Israeli logistics company. Another project that works with these purposes, Catena-X, sees itself as an extensible ecosystem in which automotive manufacturers and suppliers, dealer associations and equipment suppliers, including the providers of applications, platforms and infrastructure, can all participate equally. One example of using technology to streamline supply chains is to coordinate whether a transportation company lacks a driver or needs to bring supplies via a different route due to an international conflict. There have been major delays in providing certain crucial supplies - like the baby formula crisis in the U.S. And yet, Kleinmann believes that technology is a large part of the answer. Coordinating and optimizing deliveries and travel, protecting goods and data using more efficient methods and cybersecurity can be a more effective method of getting things done.
"Being efficient alone isn't enough. We can't just worry about solving our social challenges on this planet, but also need to consider doing business in a different way," said Schmid. "Sustainability is a great innovation driver. It gives startups a broader mindset to tackle bigger problems." And doing "greener" business isn't just good for the environment, but also reflects back on the company's employees. "Some 94% of our employees said they take sustainability seriously, and want to embed it in the core of our business operations." SAP is perceived as a green employer, and this also helps attract younger generations like Millennials. "Younger people want to be employed at a company that aligns with their own values. We also want to serve as a role model." Investors are also taking note, and realize that either businesses become sustainable or they "stop doing business."
Doing good
And that message of doing good has resonated both near and far across the company's many global offices. SAP has a few social responsibility programs. One involves hiring autistic employees or those who come from the neurodiverse spectrum. In Israel, the company has partnered with Beit Hagalgalim and Beit Issie Shapiro, two centers for children with disabilities, sending developers to try and understand how they can create technologies to help disbaled children with everyday motor struggles.
"We want to create added value at SAP, and not just build technology. It all comes back to us afterward when our employees feel fulfilled," said Kleinmann. Added Schmid: "Our message is: we want to do good for all of us within these planetary boundaries."