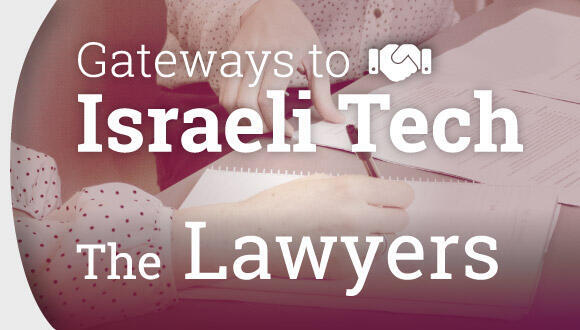 Special Project
Most Important Gateways to Israeli Tech - The Lawyers
A spotlight on the high-tech departments in the leading law firms in Israel: The big deals, the important clients, and also analysis, trends, tips and advice shared by Israel's leading high-tech lawyers
Elihay Vidal
|
15:56 15.06.2022
Choosing a law firm can be one of the most critical and important decisions a company will ever make. From a startup's first steps and planning its legal entity, through significant milestones, like finalizing the legal aspects when dealing with investors, to the announcing of an exit. This is the reason why as part of CTech's ongoing project to map the "Most Important Gateways to Israeli Tech", we decided this time to turn the spotlight on the high-tech departments in the leading law firms in Israel.
Click here to see full list:
Most Important Gateways to Israeli Tech - The Lawyers
The following list allows - beyond the rare glimpse into the heart of deals worth tens of billions of dollars in the past two years - also a personal introduction to the people who lead the high-tech departments in the firms. Exclusively for CTech's special project, Israel's leading lawyers give their professional assessments of the expected trends in the industry in the coming years, offer their opinions on the Israeli high-tech industry and the people who build it and analyze technological and financial processes in the field. In addition, the top legal advisers share their rich professional experience and provide tips and advice to high-tech entrepreneurs based on transactions they have been involved in over recent years.
The full list of "Most Important Gateways to Israeli Tech - The Lawyers" can be found at this link: https://www.calcalistech.com/ctechnews/category/33042
The Law Firms:
Goldfarb Seligman: Israeli unicorns are here to stay
Gornitzky GNY: Examining the crucial aspects of tech deals
Erdinast, Ben Nathan, Toledano & Co.: Personal connection key to building long term relationships
Naschitz Brandes Amir: Seeking the holy trinity of entrepreneurship
Herzog Fox & Neeman: Living and breathing high-tech
Amit, Pollak, Matalon & Co: Working with founders to build Startup Nation
Meitar Law Offices: Predicting the tech trends ahead
Gross & Co: Addressing the talent crunch in Startup Nation
Pearl Cohen: Postponing legal aspects costly in the long term for tech entrepreneurs
Yigal Arnon - Tadmor Levy: Tech ecosystem should brace for difficult times
Shibolet: M&As to gather steam in 2022
FISCHER: Israeli high-tech has undergone a process of maturation