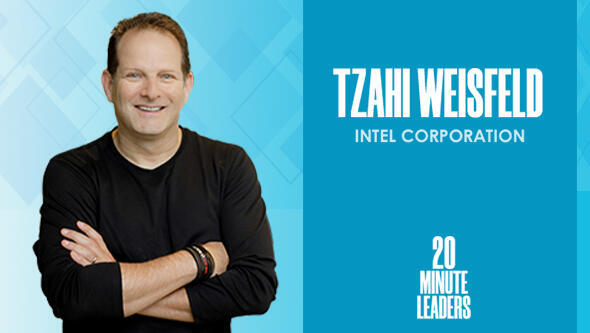 20-Minute Leaders
"My main mission is to help reinvent large, amazing companies through this journey with startups."
Reinvention of large companies is Tzahi (Zack) Weisfeld's speciality, and he accomplishes this through helping corporates to engage with startups to benefit both sides.
Reinvention of large companies is Tzahi (Zack) Weisfeld's speciality, and he accomplishes this through helping corporates to engage with startups to benefit both sides. Startups get access to more resources while the large company engages with more innovation. Now the vice president and general manager of Intel Ignite, he previously served as the global head of Microsoft for startups. AppsFlyer, Semperis, and Fabric are some of the startups that have been through Weisfeld's accelerators. In each program, his main mission has been to help startups become successful quickly, but there are lessons for the big companies too. Weisfeld shares that it makes a big difference when leaders of the large corporates are seeking to learn rather than just to help startups. He explains that having an entrepreneur managing these types of programs, getting proper funding, and having the CEO of the corporate involved are key to success.
Click Here For More 20MinuteLeaders
We want to touch on a big theme here, this idea of corporate reinvention and innovation. Who are you in the tech world?
I think of myself as an entrepreneur first. Eight years in the Valley, the rest here in Israel. From bootstrapping to raising $120 million and selling to Google for close to nothing. But also being a corporate entrepreneur.
I am now running Intel for Startups here. In the early internet days, I was a CEO of a small Israeli internet company. I think what was fascinating is to see not just the startup world but how these large multinational corporations are dealing with the fact that disruption is happening on the outside. That was the fun part of my journey. That was a bit different than a lot of my friends that stayed running more and more startups; they eventually became VCs and supported startups.
You're understanding that there's this whole other paradigm to the world of incumbents with vast potential that any startup would love to have. Something about this resource is being underutilized, and it sort of clicks for you. What is this thesis that you started building for yourself?
Clearly, the one big difference between these huge companies with amazing talent and these small startups that are also super smart and they want to eat the whole world is the culture. There is a big cultural difference. One of my mentors at Microsoft, Qi Lu, told me at the time, "Zack, corporate innovation is dead. Corporate innovation is going to come from startups." I actually took this as part of my main mission: to help reinvent some of these large, amazing companies through this journey with startups.
I came back to Microsoft back in 2010 for the third time. I was asked to come back and help connect Microsoft to startups and help drive acquisitions. I figured the problem was not local, the problem is global. Microsoft forgot how to speak and how to engage with startups. My team reported to Satya Nadella, before he was the CEO. I said, "Satya, the internet says we're done, we're dead. We're out of the picture." I asked his permission to reinvent the way the company works with entrepreneurs, and built this program, the Startup Accelerator Program.
In 2010, 2011, Microsoft was the evil empire. I have a good friend here, a VC, who said not a single startup in his right mind would want to join a Microsoft Accelerator. I said, "Okay, that's an opinion. I see things differently."

He looked at the current state of affairs. You said, "With a few action items, it can be very different."
Yes. Then I've built this program. It started in Tel Aviv, and we had some amazing companies go through: AppsFlyer, OwnBackup, Spot, Semperis, Fabric. We've shown that we could help change the corporate and change the engagement of these early-stage startups with the corporate and have both sides learn a lot. Startups leverage the amazing resources and access these corporates have, and the corporates learn a new skill.
I think today Microsoft is ranked as one of the top places to work in Israel. It sounds like this is something that 10 years ago, people would also say, "No way."
I tried to hire entrepreneurs to run my programs around the world. The first thing most of them said is, "No way. I'm not going to work for Microsoft." I was lucky enough to have Satya take on the CEO role. That was the Microsoft journey. I left mid 2018 because I haven't seen my kids for too many years. I built more Legos in one year than I built all my life before that.
Then I met Bob Swan, the former CEO of Intel. I was asked to meet with Bob and came with the concept that we may change the way Intel works with entrepreneurs. Intel has an amazing corporate venture fund that is working very well. But Bob was concerned that we're not learning enough in the process of working with these startups. He asked me to come on board as a consultant, helping build this new program. It's called Ignite. Ignite in Tel Aviv is in its sixth batch. We have a European program in Munich. Boston and London are the two next programs.
Two and a half years ago, I asked a couple hundred startups which corporate they want to engage with if you have every option in the world. Not even a single one said Intel. Today, Intel Ignite is the number one startup accelerator program in the country. We're getting about 250 applications per batch. We only accept 10. They don't have to be chip companies. They need to be deep in technology, but we're interested in connecting with all these disruptors across the world.
It's all about reinvention. How can we help reinvent these amazing companies through the work we do with startups?
What is it that you do to change the narrative of these organizations? What's the magic sauce here?
It's not science; it's art. I've spent the past 12 years or so really fine tuning that machine. The first thing that makes the difference is what you optimize for. The number one mission is accelerating groundbreaking startups. There's nothing about Intel or Microsoft in that line. It's about how to take the best possible startups and how to make them as successful as fast as we can. We take no equity. One of the tricks to get the best companies possible is actually not to take equity. Ending up as a large corporate with hundreds of small equity parts in startups doesn't really make sense. We optimize for the startups.
If you look at many of these programs, what makes them successful or fail falls down to three things. One is how they are staffed. The program has to be managed by an entrepreneur. Someone that has built a company, hired, fired, raised funding from reputable investors, and brings their own network.
The second, how do you fund. I don't want to be relying on sponsors. The program has to be fully funded by the corporate. The third thing, which is probably the most important one, is who's the sponsor in the organization. Best case, CEO or someone that reports to the CEO. It's super critical to have the program report to the right places because then you can make an impact.
Having this global experience, the energy that you bring to the table, I can only imagine why these phenomenal leaders are backing these amazing initiatives.
We had an event last week and Pat, the CEO of Intel, came to spend time with the 10 startups we brought in. Pat came in and asked questions, really trying to understand the business and technology of these little startups, and he then follows up on these meetings by sending other people that he thinks need to learn and engage. You get to these amazing leaders, and they don't say, "There's a tiny startup. Let's help them." They say, "What can we learn? How can we co-create a better future together?" That's a huge difference.
It's really inspiring for me to hear these stories. Thank you very much.
I have the best job in the world. I get to help rebuild or reinvent these huge, amazing companies, with the support of these great leaders. And I get to play with all these startups constantly and get hundreds of amazing founders that I can help.
Michael Matias, Forbes 30 Under 30, is the author of Age is Only an Int: Lessons I Learned as a Young Entrepreneur. He studies Artificial Intelligence at Stanford University, is a Venture Partner at J-Ventures and was an engineer at Hippo Insurance. Matias previously served as an officer in the 8200 unit. 20MinuteLeaders is a tech entrepreneurship interview series featuring one-on-one interviews with fascinating founders, innovators and thought leaders sharing their journeys and experiences.
Contributing editors: Michael Matias, Megan Ryan