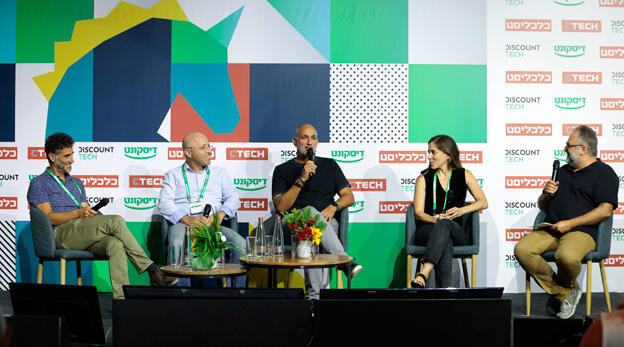 Unicorns Forum
"Last year we could say 'grow with all your might', today we need to be more precise"
Tami Bronner, partner at Vertex Ventures, made the remarks during the Unicorns Forum. HiBob CEO Ronni Zehavi warned that "the third quarter will show whether to invest in growth or to lay off"
Sophie Shulman
|
19:06 29.06.2022
"The third quarter is critical, and it will determine the sentiment for next year - are we investing in growth or firing?" said Ronni Zehavi, co-founder and CEO of HiBob, in a panel moderated by Elihay Vidal, Editor-in-Chief of CTech, which took place during the Unicorns Forum sponsored by Calcalist and Discount Bank. "In my opinion, there will be another round of layoffs and wage cuts towards the end of the year," he added. "It won't be a small and painless round - but at the end of each decline there is growth."
However, Zehavi immediately insisted he remains positive: "Investors will always be more pessimistic, because they have an interest in doing so, and with entrepreneurs it is the other way around - they are more optimistic. HiBob is growing, there are 600 employees and 2,400 customers around the world. Most companies have taken a pause, but have already returned to their business plans. Today there is a consensus that the third quarter is a quarter of 'Let's wait and see' - whether the market will reach rock bottom or not. But everyone is thinking about 2023, and it is impossible to grow there if employees are not recruited or you don't start operating in new markets. You have to think about how much money there is, and act to locate it if necessary, but just as we entered this period, we will also get out of it. I remember the situation in 2003, and then everyone said everything was terrible, but by 2005 everyone was already on cloud nine. The industry knows how to get out of a crisis."
The investors on the panel were quick to respond to Zehavi: "You forgot to mention how many companies closed by 2005," said Boaz Dinte. Managing Partner and Co-Founder of Qumra Capital, which specializes in investing in growth companies. "Investors are also optimistic, but markets are falling and the multipliers of companies dropped from 20 to 2, inflation has accelerated, and there is a war. What is this if not a recession? What needs to happen for you to say that there is a recession?"
Tami Bronner, a partner at Vertex Ventures, also strengthened the investors' approach: "We are certainly in a period of uncertainty and changes in the market. The first thing we told our companies was that uncertainty is beginning, but we must continue to operate. There is a difference between large and small private companies. With small companies there is a tremor in the early stages. Seed phase companies have a hard time reaching customers. In the early stages, like A, a year ago it was easy to raise funds, and today we are only talking about the burning rate. We, Vertex, see far fewer entrepreneurs in the seed phase, and then when a good team arrives, a war develops over the investment and the value and amount increases."
Zehavi of HiBob stated in response: "The comparison between public companies and private companies is challenging in such situations. For a private company we can take calculated risks, open new markets, new product lines - what public companies don't have, because it is in the quarterly war. Liquidity in the public sector is also rising and falling, and in the case of private companies, the value is less volatile."
But what is the real situation on the ground?
"There is a change in the market, but it is important to gain perspective," said Yariv Lotan, VP of Product, Development and Data at Start-Up Nation Central. "Between 2020 and 2021, investments jumped by 2.5x, and now we see a decrease, but it is relatively minor. In the first half of 2022, fundraising dropped to $10 billion, compared to $12 billion in the corresponding period. There is also a 40% decrease in mega rounds in the first half of the year."
Dinte supported the point and said that "there is still a lot of money in the funds, and that was not the case in 2001. There is a lot of money in the market for companies with good metrics that have raised at reasonable values."
How much are the funds telling their portfolio companies to cut?
Dinte: "It all depends on the state of the company, its market, its size. There are no instructions for everyone to cut 10%, and an investor who does this is doing something unwise. For example, a mature company that knows how to grow 20% and burns $5 million a month is in trouble because it will not be able to raise money, and the chances of it dying are high, or someone will buy it at an unattractive price. In such a company something must change and become more efficient. In the good companies perhaps on the contrary, one has to invest, bring in the people who were difficult to bring in before, make acquisitions. In two or three more years we will get out of this situation. Besides, it should be understood that raising money today is not as easy as it has been in the last two years. People are looking at the IPO market, and there have been hardly any IPOs since December. It is difficult to determine the levels of value."
Bronner summed it up by saying: "We also did not release a presentation with general instructions, but we did go through the portfolio companies one by one and see if the goals set were realistic, or perhaps we needed to be more precise depending on the situation. Last year we could say 'grow with all your might', and today we need to be more precise."