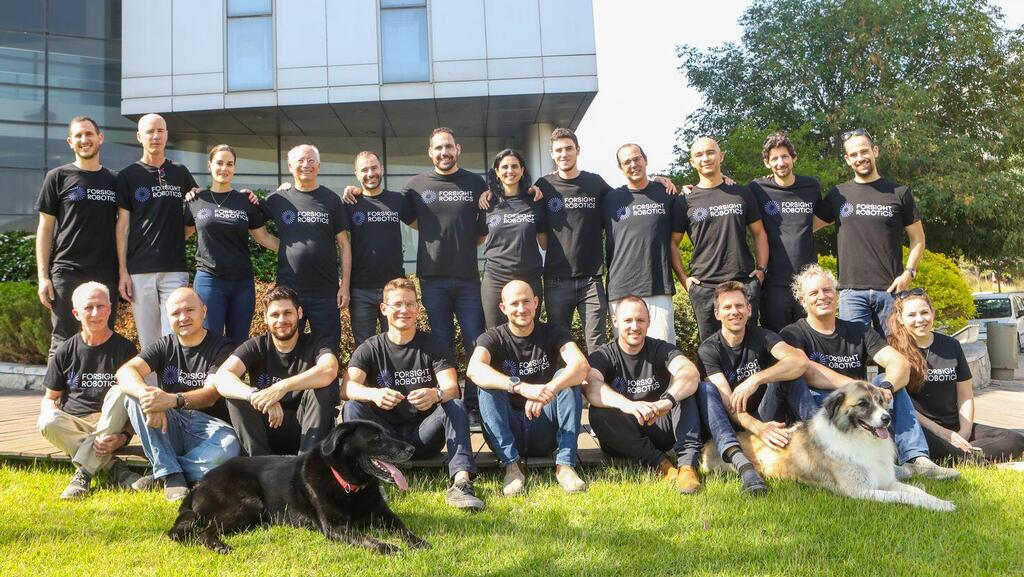 ForSight Robotics raises $55 million Series A led by Adani Group for ophthalmic robotic surgery
The Israeli startup is developing ORYOM, a hybrid intraocular robotic ophthalmic platform, to advance ophthalmic surgery to treat a wide range of conditions including cataract, glaucoma, and other retinal diseases
Meir Orbach
|
10:00 18.07.2022
ForSight Robotics announced on Monday that it has completed a $55 million Series A round for its surgical platform for fully robotic cataract surgery. The platform, named ORYOM, will increase accessibility to ophthalmic surgery procedures worldwide.
The Adani Group led the funding round alongside existing investors Eclipse Ventures and Mithril Capital. A number of new investors, including Provenio Capital, Precision Capital, Reiya Ventures, the Ljungstrom family office, and other prominent private investors also joined the round. Last week, the Adani Group won the tender to privatize the port of Haifa in partnership with the Gadot Group, in a deal valued at NIS 4.1 billion (approximately $1.18 billion).
Following an initial $10 million Seed round last year, ForSight has advanced its technological capabilities and doubled in size. The ORYOM platform has already been used successfully in multiple cataract procedures on an animal eye model by a number of ophthalmic surgeons.
In addition to earlier financing, ForSight has been awarded grants reaching around $2 million from the Israel Innovation Authority's Companies Incentive Program.
Dr. Joseph Nathan, Co-founder, Chief Business Officer, and Medical Director at ForSight, told Calcalist that the funding round was completed last month and explained why Adani decided to invest in the company.
"We have developed a robotic platform that can conduct eye surgery which is currently done manually with the help of a microscope. A successful cataract surgery requires a lot of time, high skill, and many years of experience," said Nathan. "The robot is 10 times more precise than a human. We are currently developing a completely autonomous robot that will be able to make up for the shortage of eye doctors across the world. We already have a system that was successfully tried on animals and we estimate that by 2026 at the latest our robots will be ready to treat humans."
ForSight was founded in 2020 by Professor Moshe Shoham, who serves as its chief scientist and previously founded Mazor Robotics Ltd., which was acquired by Medtronic in December 2018 in a $1.6 billion deal. Shoham co-founded the company with Dr. Daniel Glozman (CEO) and Joseph Nathan (CBO). The company currently employs 30 people out of its offices in Yokneam.
ForSight plans to bridge the worldwide gap in the accessibility to eye surgery, and help over one billion people who suffer from preventable vision impairment and eye diseases. ForSight's first procedure is cataract surgery, the most common surgical procedure with approximately 28 million procedures worldwide per year. According to the U.S. National Institutes of Health, there are over 25 million Americans who suffer from cataract and hundreds of millions of cataract patients around the world.
ORYOM – which means "daylight" in Hebrew – leverages cutting-edge technologies in microsurgical robotics, computer visualization, and machine learning. The platform will automate the complex subtleties of ophthalmic surgery to treat the diseases underlying preventable blindness with an intuitive platform. It is 10 times more accurate than the human hand, delivering ultimate consistency, for extremely safe surgeries with optimal refractive outcomes.
Timely ophthalmic microsurgery can prevent many of the leading causes of blindness. However ophthalmic surgery is intricate and complex, requires years to master and there is a shortage of skilled ophthalmic surgeons. According to the British Journal of Ophthalmology, affluent nations have 72 eye surgeons per million people, while low-income countries average only 3.7 per million.
An estimated 2.2 billion people worldwide have a vision impairment. This burden is estimated to cost $3 trillion annually in lost productivity, healthcare, and social care, according to a study by the Global Public Health Journal.
"We are delighted for the opportunity to invest in ForSight, who are transforming the medical landscape with their offering," said Jeet Adani, Vice President, Group Finance, Adani Group. "We see this as a strategic investment with synergies as part of our healthcare business ambitions. ForSight's success will help millions of people around the world see and live better."
ForSight ORYOM is being developed by leading robotic experts and prominent ophthalmic surgeons. These include Dr. Fred Moll and Mr. Rony Abovitz as part of the company's strategic board, and Shoham. The company has a prestigious clinical advisory board which includes Dr. David Chang, Prof. Boris Malyugin, Dr. Elizabeth Yeu, Dr. Sam Garg, Dr. Vance Thompson, and Dr. Modi Naftali.
Headquartered in Ahmedabad, India, Adani is the largest and fastest-growing portfolio of diversified businesses in India with interests in Logistics (seaports, airports, logistics, shipping, and rail), Resources, Power Generation and Distribution, Renewable Energy, Gas and Infrastructure, Agro (commodities, edible oil, food products, cold storage, and grain silos), Real Estate, Public Transport Infrastructure, Defense & Aerospace, and other sectors.