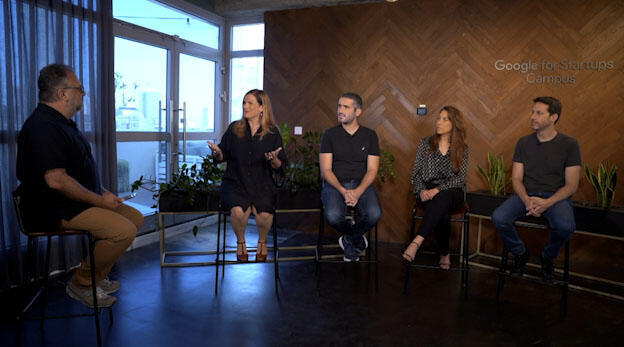 "A crisis doesn't just mean cutbacks, but also opportunities for acquisitions at attractive prices"
Natalie Refuah, General Partner at Viola Growth, was speaking at a panel focused on growth in the new reality. "It wasn't long ago that companies had to throw parties in Mauritius to attract developers, but today you can bring in excellent people at far more realistic prices," noted Ariel Assaraf, CEO of Coralogix
Elihay Vidal
|
11:58 20.07.2022
"Over the past two years, there was a large anomaly in the market with entrepreneurs thinking that money would drop down from the sky and it makes no difference what they spend it on. We had an advantage that our reality forced us to always be very realistic and only spend money on what's important," explained Vered Raviv Schwarz, President and COO at Guesty, speaking on a panel during Google and Calcalist's Startup Week.
According to Schwarz, even during the dark days of the pandemic when the entire traveltech industry came to a standstill, Guesty's platform, which provides end-to-end property management software for short-term rentals, continued to grow while cautiously managing its expenses. "As soon as we identified that the pandemic was coming we prepared ourselves for an emergency. We prepared three different budgets - a judgment day budget, a middle-ground budget, and an optimistic budget - and we managed everything on a weekly basis. We also tried to understand how we can best utilize this period, what our growth targets should be, and what we are trying to achieve," said Schwarz. "We made four acquisitions over a very short period, understanding that it is sometimes best to combine forces and instead of focusing on your own situation think of finding the right connections and synergies within the industry."
Natalie Refuah, General Partner at Viola Growth, also described some of the opportunities presented during a time of uncertainty. Refuah believes that a crisis or a recession doesn't necessarily have to result in cutbacks. "A crisis isn't just cutbacks and not every company needs to implement the same magnitude of cutbacks," said Refuah. "You need to also think about non-organic growth. During a crisis, there are opportunities to make acquisitions at attractive prices which allow you to increase your market share, enter new markets, or expand your products. We encourage our portfolio companies to think in these directions, especially those with plenty of money in their account. On the other side, early-stage companies that are currently struggling to raise money might have very interesting opportunities to be acquired."
Lior Noy, Head of Startups and VCs Growth at Google, pointed to other avenues that companies should consider in order to generate growth during a time of uncertainty. "Startups should focus on increasing their customer lifetime value. There is of course the side of expenses which needs to be balanced with income, but it is just as important to think about how to raise the income. Even though it is very difficult to attract new clients, we are still seeing many startups focus on that instead of focusing on the customer lifetime value of their current clients. How to reduce abandonment, and how to cross-sell and up-sell," said Noy. "There are AI tools that really help to do this on large scales and with little effort."
Ariel Assaraf, CEO of Coralogix, which has developed a platform that tracks and analyzes metrics, tracing, and security data, explained what his company is doing to weather the current storm. "We are trying to operate on two routes, one is understanding what our opportunities are. For example, this is an excellent opportunity to hire talent as there is going to be plenty of top-quality talent on the market in the near future. It wasn't long ago that companies had to throw parties in Mauritius to attract developers, but today you can bring in excellent people at far more realistic prices," noted Assaraf. "The second route is preparing several scenarios and budgets and seeing where we stand at any given point in time. This mainly means looking at the business results of the company all the time and understanding if our activity is profitable or not. For example, are our expenses in sales and marketing resulting in clients that are profitable to us?"
According to Assaraf, it is important to remember that crises come and go and it is important to remain level-headed. "You shouldn't go to one extreme and inflate figures when money is cheap, but you also shouldn't exaggerate with cutbacks and suffocate the business. You need to focus on creating a plan that will allow you to reach the end of the crisis and continue to grow, while at the same time taking care of the employees and keeping the clients satisfied," concluded Assaraf.