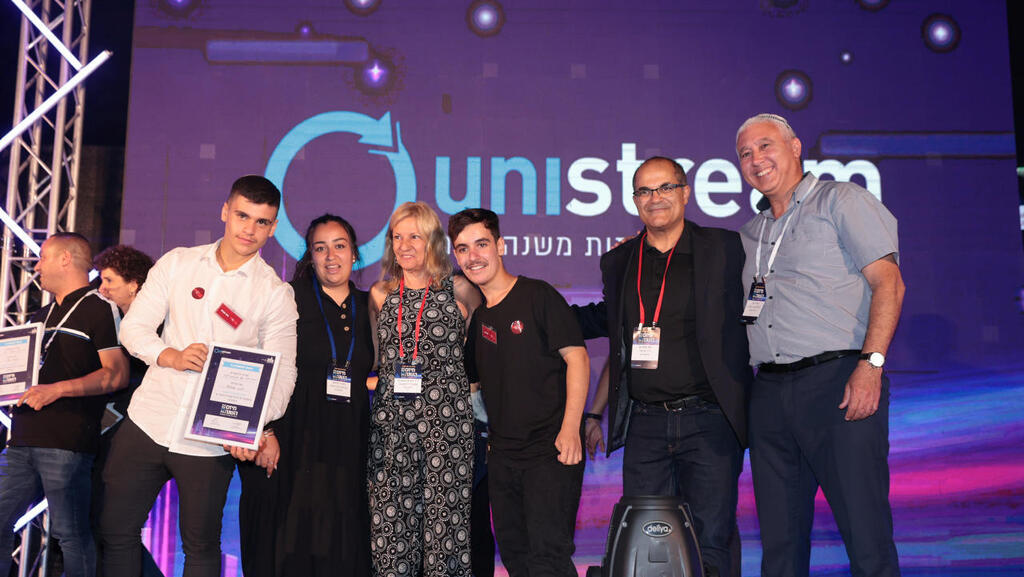 Smart mattress and fire-detection system among winners in Unistream 'Entrepreneurs of the Year' competition
A group of third year students from Netivot, who developed a mattress that wakes people up and interfaces with electrical appliances in the home, claimed first place in Unistream's 'Entrepreneurs of the Year' competition. In second and third places: a project to make closet shelves accessible and a system for monitoring fires with drones and 5G technology
Tomer Hadar
|
12:29 24.07.2022
A group of third-year students from Netivot, which developed a smart mattress that wakes up the user through a combination of vibrations and sounds, claimed first place in the finals of Unistream's "Entrepreneurs of the Year 2022" competition, named after the late Ted and Hedy Orden. The event was held last week with a focus on "creating a bridge to the future" and took place at the Menorah Arena in Tel Aviv hosting over 110 projects created by Unistream's participating youth.
The youth come from 100 different cities and villages from Kiryat Shmona to Eilat and from a variety of sectors: Druze, Arab, Jewish, secular, religious, immigrants, youth at risk and others. Unistream was established in 2001 by the entrepreneur and businessman Roni Zarom in order to ensure equal opportunities in life for youth in Israel regardless of gender, religion and place of residence and to reduce socio-economic disparities through the accessibility of educational opportunities and investments. The youth are accompanied by approximately 4,700 mentors from the business community who assist them in achieving their goals.
The group which won first prize developed a smart mattress that wakes up the user optimally through a combination of vibrations and sounds - and an interface that integrates with the rest of the electrical appliances in the home so that they can "welcome" the person after he wakes up. According to 17-year-old Timor Ben Aroya, a student at Unistream: "Our group is made up of 16-17 year-old teenagers from Netivot and the surrounding area. Instead of sitting at the beach during the holidays, we worked hard on the development and recently also started a business collaboration with the mattress company Polyron."
Coming in second was a group from Netanya which is developing a project to make closet shelves accessible for users using a smart mechanism. Third place was won by a group of teenagers from Kiryat Malachi who are developing a fire detection system using sensors.
Among the judges who participated in the event were:
Naama Schultz, Director General of the Ministry of Foreign Affairs
Gabi Portnoy, Director-General of the National Cyber Directorate
Dalit Stauber, Director General of the Ministry of Education
Miriam Peretz, Educator and winner of the Israel Prize
Tair Sol Ifergan, Director of the Labor Arm, Ministry of Economy and Industry
Ziv Shilon, entrepreneur, lecturer and social activist
Zohar Levkovitz, entrepreneur
Reuven Krupik, Acting Chairman of Hapoalim Bank
Adi Soffer Teani, CEO of Meta Israel
Rakefet Russak Aminoach, Managing Partner at Team8
Moshe Vidman, Chairman of Mizrahi Tefahot Bank
Ami Appelbaum, Chief Scientist and the Chairman of the Board of Israel Innovation Authority
Dror Bin, CEO of the Innovation Authority
Yoel Esteron, publisher of "Calcalist"
According to Roni Zarom, founder of Unistream: "From year to year and every year I get a feeling from our community that, not only have we grown, but that our impact is more noticeable and this leads us forward. Next year, I hope we grow even more and influence more teenagers. After all, teenagers are at the center of the event - the very fact that teenagers are involved in the development of ventures is a success for me. I remember the first event we held which was limited and included only a few groups, this is my dream come true."
According to Ifat Bechor, CEO of Unistream: "A year ago I took up my position - we had a productful and wonderful year and I experienced amazing things. First, I saw people and humanity, sharing and giving, leading businessmen and women whose inner drive is an inspiration. I saw eyes sparkling with the ability to dream - teenagers who break new ground and fulfill themselves, who come from the entire mosaic of Israel with life stories that provide character. I saw a home, the very meaning of our venture which is a second home for students and mentors. I saw an extraordinary Unistream team throughout the country, managers, instructors who work around the clock from a pure and genuine place, I saw our board members who support us. And most of all, I saw connections - I saw roads being paved, built and bridged, connections that cross prejudices and languages. Before our eyes is a vision of a Startup Nation that includes everyone and we see the amazing impact in our graduates. The numbers speak for themselves, but the success rates are no less exciting, each and every student is a world in their own right and we believe that entrepreneurship is a catalyst for change. It changes lives and it should be combined with social action. We see how a social agenda raises employees' sense of commitment and brings growth. There is an incredible force multiplier in building connections and partnerships between communities and people, this is the future and this is the next generation of Israel's success and leadership, this is our vision."
According to Aviv Frenkel, co-founder and CEO of Enroute: "Every year I am a judge in the competition and Unistream's mission is unique, offering fishing rods to young people from the geographical periphery is more important than giving them fish to eat. The opportunity to get to know the youngsters with a sparkle in their eyes is special - And even if the next unicorn does not emerge from here, they have received the tools to succeed in the adult world."
Dror Bin, CEO of the Israel Innovation Authority, told Calcalist: "The purpose of the conference is to create high-tech gateways for all geographies - humanity's needs require accessibility and the event helps realize this. We know Unistream graduates who work in high-tech, for them it is an opportunity. For us, the connection to Unistream is important because in five years these graduates will submit applications for support grants and change the world."
According to judge Guy Navon, Head of Discount Tech, "there is a combination of amazing talents from all over the country with the very impressive work by Unistream and the supporting teams that lift up the youth. They educate them for entrepreneurship and promote entrepreneurship throughout the country. The group that I personally liked developed sensors for detecting and monitoring forest fires using sensors that are installed on trees and drones that immediately report to the fire department. This is an important activity that contributes to the environment and has great business potential."
Liran Avisar Ben Horin, Director General at the Ministry of Communications, added: "I saw a group of young people that I liked who developed a fire extinguishing system with a drone using a 5G mobile phone - this is a technology that speaks to me. It is an idea that, if promoted, could be sold. There was also a group here that presented a sticker that helps prevent dehydration - they have a clear business model. It's something that can also be sold to the army, and it's financially feasible."