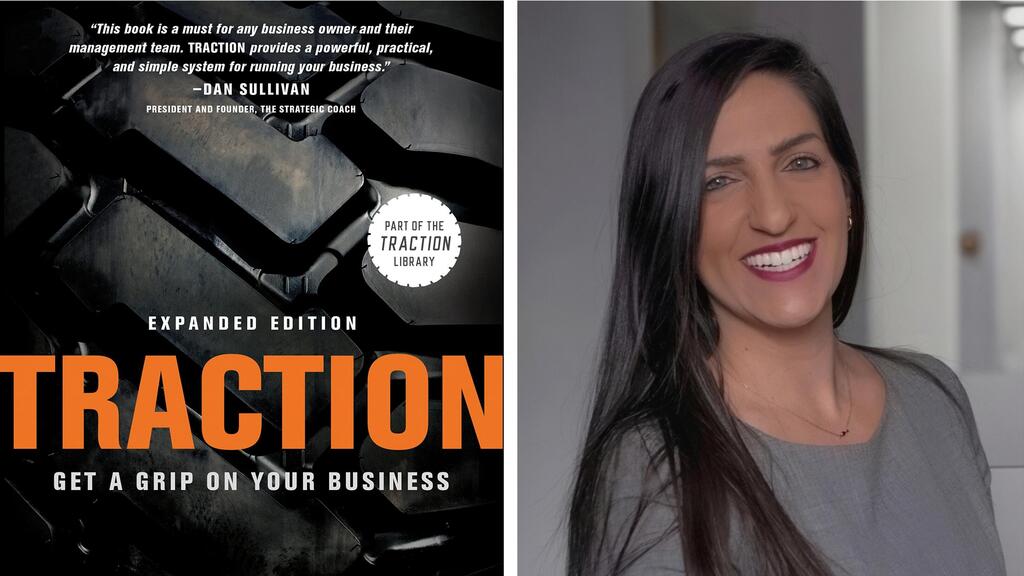 BiblioTech
CTech's Book Review: Let's examine the Entrepreneurial Operating System
Sivan Tehila, Founder and CEO at Onyxia, shares insights after reading "Traction: Get A Grip On Your Business" by Gino Wickman
Sivan Tehila
|
09:47, 18.08.22
Sivan Tehila is the Founder and CEO of Onyxia, a cybersecurity company helping CISOs gain a holistic view of their environments. She has joined CTech to share a review of "Traction: Get A Grip On Your Business" by Gino Wickman.
Title: "Traction: Get A Grip On Your Business"
Author: Gino Wickman
Format: Book
Where: Home
Summary:
In his book, "Traction: Get a Grip on Your Business", Gino Wickman helps entrepreneurs implement the Entrepreneurial Operating System (EOS) to gain traction and grow their companies. Without EOS, many entrepreneurs experience at least one of these frustrations:
Lack of Control: You are not in control of your business, as it's in control of you.
People: You are frustrated with your people.
Profit: You are not making enough money.
The Ceiling: You are stuck and grow past the ceiling.
Nothing's Working: You have tried everything but fail to gain traction.
Gino Wickman created EOS and wrote Traction to solve these common frustrations:
Entrepreneurial Operating System (EOS) – "a proven set of simple, practical tools that synchronizes how people in an organization meet, solve problems, plan, prioritize, follow processes, communicate, measure, structure, clarify roles, lead, and manage."
Important Themes:
The EOS Model – every business is comprised of Six Key Components that "must be managed and strengthened to create a healthy, well-run business":
Vision – "clearly defining who and what your organization is, where it's going, and how it's going to get there"
People – "getting the Right People in the Right Seats"
Data – "using a handful of numbers that give everyone an exact pulse on where things are, and when they are off track"
Issues – "strengthening your organization's ability to identify issues, address them, and make them go away forever"
Process – "systemizing your business by identifying and documenting the core processes that define the way to run your business"
Traction – the ability for business leaders to "execute well, and they know how to bring focus, accountability, and discipline to their organization.
The book suggests eight key questions that leadership teams have to answer:
What are your core values?
What is your core focus? - Niche = Core Focus — Once your core focus is clear, your people, processes, and systems can be put in place to drive it with consistency.
What is your 10-year target? - Think BHAGs (Big, Hairy Audacious Goals)
What is your marketing strategy? You need: Your Target Market/"The List"; Your Three Uniques; Your Proven Process; Your Guarantee
What is your three-year picture?
What is your one-year plan?
What are your quarterly Rocks?
What are your issues?
Identify and Solve your issues with an Issues List, and following the Issues Solving Track
Identify, Discuss, Solve (Solve leads to a specific action item. for someone specific).
Beware of (be very wary of) Tangents!
Establishing your company's rocks:
STEP 1 — your leadership team lists everything on the whiteboard that has to be accomplished in the next 90 days.
STEP 2 — With that list of 10 to 20 items in front of you, discuss, debate, and determine the most important priorities for the company in the next 90 days.
STEP 3 — Once you've narrowed your list, set the date that the Rocks are due.
STEP 4 — Assign who owns each Rock.
STEP 5 — Once the company Rocks are set, the members of the leadership team each set their own Rocks.
STEP 6 — Create the Rock Sheet, which is just a landscaped piece of paper.
STEP 7 — Share the company Rocks with the entire organization.
STEP 8 — Have each department set their Rocks as a team.
STEP 9 — In the end, each employee will have his or her own Rocks for the quarter.
What I've Learned:
1. The first thing I did when I started Onyxia was build the team. Choosing the right people to run this "Marathon" with is crucial. To do that, you must build a healthy leadership team that will help define your corporate vision, have clear accountabilities, take the initiative in their department, and fight for the great good of the company.
Five core leadership abilities:
Simply – "eliminating complexity and reducing everything to the essential"
Delegate and Elevate – "freeing and elevating yourself to do what you do best, and doing the same for every person in your organization"
Predict – choosing the right path in the short-term (focusing on rocks and issues within 90 days) and long-term (forecasting traction on the vision over 90 days)
Systemize – "documenting and getting everyone to follow the essential procedural steps in your company's core processes."
Structure – "defining and organizing the "seats" or positions in your organization to reduce complexity and increase clarity, communication, and accountability.
2. Core values are crucial, and it's better to establish them early on. When we started, my core team and I had multiple sessions to brainstorm and decide how we saw the company's culture and what are the most important values for each team member. It was a good practice for us to learn how to work together as a new team.
3. You must be willing to take risks to grow by being:
Open-minded: Be open to new and different ideas and perspectives.
Growth-oriented: Be willing to grow in the face of challenges and turbulence.
Vulnerable: Be open and honest with your people by lowering your barriers.
Who Should Read This Book:
Entrepreneurs and business owners. Especially those who need to establish a company from scratch for the first time and implement processes and strategy. I was introduced to this book by experienced entrepreneurs who are still getting back to it after working for years as founders and CEOs.