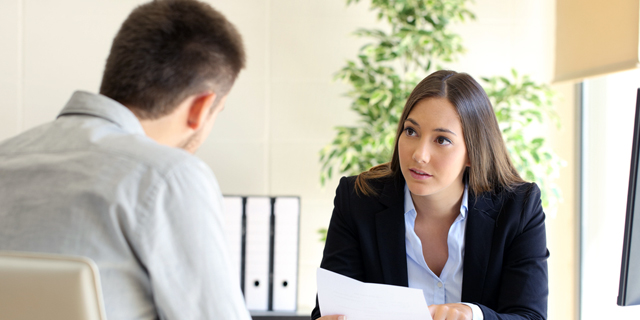 Up to $15,000 a month: High-tech HR salaries soar
The average salary for human resources positions in Israeli high-tech stands at over $6,500 per month compared to an average of $3,200 in placement or recruitment companies
Maayan Manela
|
08:36 05.02.2023
The average salary of men in human resources departments is 20% higher than that of women despite being a profession with a clear female majority. Women in HR positions earn an average of NIS 19,505 per month (approximately $5,700), while men make NIS 23,496 ($6,900), according to a salary survey conducted by HRD, an Israeli recruiting training company.
The wage gap narrowed slightly this year compared to last year when the gap was 27% in favor of the men - who earned an average of NIS 23,150 ($6,770) a month compared to the NIS 18,100 a($5,300) month for the women.
In general, the average salary for HR professionals in high-tech is significantly higher than the salary in other organizations and stands at NIS 22,654 $6,630). In placement companies or recruitment services for organizations, the average salary is NIS 10,956 per month ($3,200), while in government organizations or academic organizations, the salary ranges around NIS 18,000 ($5,260) per month on average.
The position with the highest average salary in the field of human resources is the VP of human resources in high-tech who earn an average salary of NIS 36,525 per month ($10,685). Some even earn as much as NIS 50,000 ( $15,000). VPs of human resources who are not in high-tech earn an average of NIS 32,100 per month ($9,400). The position with the lowest salary in the field is the entry-level position of recruitment coordinator. A recruitment coordinator in high-tech earns an average of NIS 17,140 ($5,000), while a recruitment coordinator in a non-high-tech organization earns an average of NIS 11,000 per month ($3,200).
High-tech hiring managers earn NIS 24,400 ($7,140) a month, while hiring managers in non-high-tech organizations earn an average of only NIS 17,000 ($5,000). This is of course an average, so there are hiring managers in high-tech whose salary is NIS 40,000 a month and hiring managers in non-high-tech companies who earn NIS 30,000 a month.
"We are witnessing an increase in the average salary, which is a consequence of the growth that characterized the labor market at the end of the pandemic. On the other hand, since the second half of 2022 we are experiencing a slowdown that is also reflected in the reduction of salary increases as reflected in the survey," said Viki Groner, a consultant and lecturer at the worlds of HR, recruitment and employer branding that conducted the survey together with Yakov Rozen, CEO of HRD. Over a thousand HR personnel participated in the survey.
"Aside from the slowdown, it is worth noting that since the publication of our first salary survey in 2015, we have witnessed a consistent trend of salary increases (we have gone from an average salary of approximately NIS 14,800 per month to an average salary of approximately NIS 19,900 per month). This indicates an understanding of the strategic importance of HR to the growth of the organization," she added.
"Another interesting statistic compared to previous surveys is the increase in satisfaction with salary. This is not surprising in light of the increased salary levels. Besides, higher satisfaction with salary is achieved as a result of moving to another workplace. This statistic brings back the discourse regarding employee retention in general and salary discussions in particular," Groner says. 69% of those who changed jobs said they were satisfied with their salary compared to 46% who stayed in the same place. This is not surprising considering that most of the raises were obtained as a result of changing jobs - 37% reported a salary increase in the last year, but the average salary increase for those who remained in the same organization was 10%, while those who moved to another organization received an average salary increase of 20%.