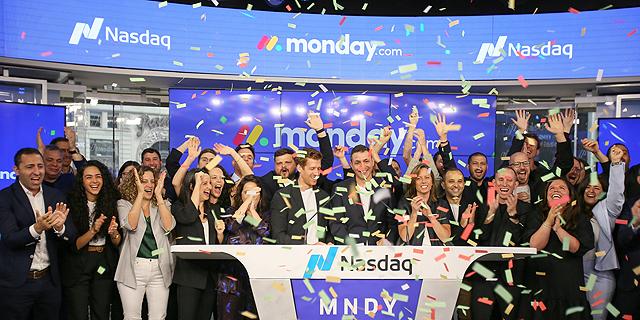 Monday.com expecting a profitable 2023 after recording 50% revenue growth in Q1
The Israeli software company's stock soared after it raised its annual revenue forecast to $702-706 million
Sophie Shulman
|
17:55 15.05.2023
Israeli software company monday.com continues to defy the global economic crisis and slowdown in tech. The company yet again surpassed forecasts with revenues of $162.3 million in the first quarter of 2023 - a 50% growth when compared to the corresponding quarter. Unlike many tech companies, monday.com has increased its revenue even compared to the previous quarter, although the growth rate has slowed down to only 8%.
While growth has continued, operating loss shrank significantly and stood at $22.8 million, compared to $67.5 million in the corresponding period in 2022.
The company also slashed its quarterly loss to $14.7 million, or 31 cents a share, compared with $66.7 million, or $1.48 a share, a year ago. Stripping out one-time items, adjusted loss came to 14 cents a share, compared to 96 cents per share in the corresponding period.
Monday.com enjoyed net cash provided by operating activities of $42.7 million, which was higher than that of the previous quarter which reached about $30 million. In the first quarter of 2022, monday.com still had a negative flow.
The numbers presented by monday.com dramatically surpassed February's revenue forecast for the first quarter, which was estimated at $154-156 million. Monday.com said it now expects to report a full-year adjusted operating profit rate of 12-13%.
Following the strong quarter, monday.com raised its annual revenue forecast to $702-706 million from the $690 million it previously expected. It is expected to end the current quarter with revenues of $168-170 million, which will reflect continued growth, although slightly more moderate compared to the first quarter.
Non-GAAP operating income is set to be $2 million to $4 million, with an operating margin of 1% to 2%. "We are very pleased with our results in Q1, achieving quarterly records for our free cash flow and revenue," said Eliran Glazer, monday.com CFO. "As a result, we are increasing our full-year guidance, and now expect to achieve non-GAAP operating profitability in 2023, two years ahead of our prior expectations."
Monday.com, which developed an enterprise operating system that allows for more efficient management of organizational processes and projects, reached more than 1,600 customers last quarter who pay more than $50,000 per year for its products, compared to 960 such customers a year ago. In the current period of cuts, in which many software companies are tested for their ability to retain customers who are looking to reduce spending on various software, monday.com continues to present a customer retention rate of 115%, which means that not only are existing customers remaining, but that it is expanding among its existing customers.