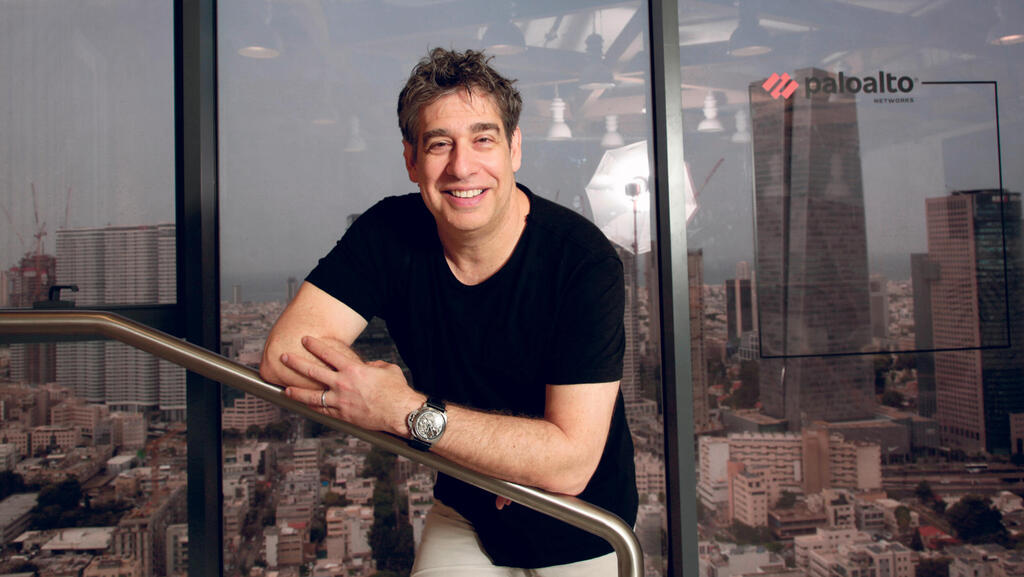 Palo Alto Networks Founder: "Only a few dominant players will survive the cyber consolidation"
"In the end, every computing infrastructure market that matures undergoes significant consolidation, with only a few key players remaining," Nir Zuk added in an exclusive interview with Calcalist, as Palo Alto continues to expand its Israeli offices, that are already responsible for annual revenue of around $1.5 billion
Sophie Shulman
|
10:59 14.09.2023
"If we were to separate Palo Alto's Israeli operations into a standalone company, it would become the second largest cyber company in Israel in terms of revenue, trailing only Check Point. We are on track to potentially surpass them and become the leader," Nir Zuk said with a smile during an exclusive interview with Calcalist.
Check out all Palo Alto related news
(20.9.23): Palo Alto in negotiations to acquire Talon Cyber Security in $600 million deal
Zuk, aged 52, was one of Check Point's earliest employees and departed in 1999 due to disagreements with Gil Shwed, the CEO who has been managing the company since its inception 30 years ago. Today, Check Point boasts an annual sales rate of $2.5 billion and is one of Israel's largest companies. However, according to Zuk, the revenues generated by Palo Alto's Israeli offices are rapidly approaching $1.5 billion and continue to grow. The Cortex division, led by Gonen Fink, reported revenues of $1 billion in the last 12 months, and the annual revenue rate (ARR) of the Prisma Cloud product line has reached half a billion dollars.
While Palo Alto was founded by Zuk, who grew up in Israel, the company is currently American and is managed by Nikesh Arora, with Zuk serving as the founder, board member, and chief technology officer. The Israeli center is its second largest, following the development center in Santa Clara. Unlike many multinational companies with a presence in Israel, Palo Alto manages all aspects of its two main product lines in the country: Prisma Cloud for cloud security and Cortex, the solution for automated cyber incident management. In the coming year, the company plans to recruit 250 more employees for its Israeli center, exceeding the rate of hiring in its U.S. and India offices, where Palo Alto also has development centers.
Let's discuss the cybersecurity field, which has been quite active lately. Israel is synonymous with cybersecurity, boasting hundreds of startups and numerous large companies merging with each other, such as Check Point's acquisition of Perimeter 81 for half a billion dollars and the potential merger between Wiz and SentinelOne, which could create a new market giant with a valuation exceeding $10 billion and revenues of over $1 billion.
"Israel should explore new opportunities beyond cybersecurity because this market is maturing," Zuk emphasized. "Cybersecurity is undergoing consolidation as larger companies expand and smaller ones find it increasingly challenging. We are witnessing discussions between Wiz and SentinelOne, and more such consolidations will likely occur. The realization is that focusing exclusively on a narrow niche within cybersecurity is unsustainable. In the end, every computing infrastructure market that matures undergoes significant consolidation, with only a few key players remaining."
Who are these dominant players likely to survive?
"Palo Alto, which has consistently advocated for consolidation over the years," Zuk noted with a laugh. "Microsoft is another key player, and additional cybersecurity companies are venturing into various sectors but avoiding direct competition with us and Microsoft. The landscape is evolving."
What will happen to those companies that remain in the middle and don't participate in mergers?
"Reaching billion-dollar sales figures will be exceedingly difficult for them. Currently, there are fewer than ten cybersecurity companies with revenues of this magnitude: Palo Alto, Microsoft, Cisco, Fortinet, Zscaler, Check Point, and CrowdStrike. Neither we nor Microsoft achieved these revenues through organic growth but rather through smart acquisitions. We always prefer to acquire rather than develop on our own."
Why not acquire SentinelOne, given your presence in the endpoint security market?
"We don't acquire companies solely to increase revenues or eliminate competitors from the market."
While Zuk may not admit it, one reason SentinelOne, which conducted the largest-ever IPO in the history of the cybersecurity industry with a valuation of $9 billion, has seen its value decrease to around $4.5 billion today is due to competition from Palo Alto. Over the years, Palo Alto has entered nearly every subcategory and niche in the market through a series of acquisitions worth billions, offering a range of solutions, including niche offerings, on the go, and even for free. For instance, the Cortex system developed in Israel incorporates functionalities similar to SentinelOne. Palo Alto is also one of the few companies, alongside Microsoft, successfully competing with cloud-native startups like Wiz, although Zuk claims that the concept was developed by Palo Alto already 18 years ago. All of this has contributed to the proliferation of solutions that have become a significant challenge for security administrators within organizations.
"Before we entered the scene, all industry systems were on-site, but we were the first to move the system's 'brain' to the cloud, which, at the time, wasn't called the cloud but a data center. This made it much easier to adopt and implement cybersecurity solutions, leading to an explosion in product offerings. This proliferation is the biggest bottleneck in cybersecurity operations," Zuk explained.
According to Zuk, even within the cloud, customers are beginning to favor established, older providers over trendy startups. "The actual number of cloud startups is much lower. Our ARR is that of a publicly traded company and that differs from figures that private companies might publish. During the peak years, companies like Wiz and Orca showed that if you spend $3 to sell a product for $1, it works, and customers buy because the product is practically free. The question is what happens when customers no longer want to spend a lot. We keep an eye on the market, and the situation is tough for these companies. How do I know? We see the CVs of salespeople from these companies flowing in our direction."
While it may be easier for you to deal with smaller players, what about the massive cybersecurity entity being built by the Thoma Bravo investment fund through an ambitious series of acquisitions valued in the tens of billions of dollars? Does that concern you?
"It's not a massive entity; it's more like a Frankenstein. A private investment fund can't create a comprehensive cybersecurity company internally."
What about the numerous cybersecurity startups in Israel?
"Some will not succeed, and some will be acquired. Cybersecurity companies face a complex situation because recent recruitment was based on extremely high valuation levels, leading to challenges now requiring compromises on valuations. There's also the issue that there are no longer as many buyers in the cybersecurity market. I anticipate there will be many closures. Symantec, Cisco, and McAfee are no longer making purchases, and those that remain are primarily Microsoft, Fortinet, CrowdStrike, and us, with Check Point playing a smaller role. It becomes challenging to establish startups when there are only 5-6 buyers in the market. It's preferable to invest human capital in other fields. Soldiers who have left Unit 8200 will need to explore other sectors," Zuk commented.
What could potentially replace cybersecurity in Israel as a distinctive advantage?
"Fintech has been highly successful in Israel. There's still ample room for innovation and transformation in the banking industry, which still relies on systems that are 40-50 years old. Another area where Israel can excel is AI. We haven't missed the AI train; it's just starting to gain momentum. While ChatGPT and Bard are fascinating, they aren't necessarily tailored to specific sectors. We discovered this when attempting to use them in the legal industry, which proved to be a complete failure. The key is to build companies that use AI to compete in traditional fields."
What sets us apart in this realm? It seems that the United States and China have already taken the lead.
"Everything we've achieved so far in Israeli high-tech has been the best. There's no gap with the world. The only gap exists in the field of large language models (LLM), where we may have been a bit late regarding investment and computational capacity. Nevertheless, there's still plenty of room for activity. Private funding would be preferable, but if the government could establish a computing center, that would be fantastic. The Nvidia supercomputer isn't a charitable endeavor; they'll charge hefty fees, making AI quite expensive at the moment. We've been doing AI in Israel for over a decade. Half of the companies we've acquired here are essentially AI companies, and we also have AI labs. A significant percentage of Palo Alto's technical teams focus on AI."
While Zuk really wants to remain optimistic regarding Israel's future, the current reality is making it challenging for him. As someone who willingly returned to Israel during the Covid-19 pandemic after two decades in the United States, he is convinced that despite the events of the past year, Israel is in a better position than the U.S. or Europe.
Aren't you regretting your decision to return to Israel after leading a comfortable life in California, where you founded Palo Alto in 2005, eventually making it the world's largest cyber company?
"No way. I've been in California for a month and a half now, and I can sense extremism in the United States as well. In California, it's the extreme left, while in states like Texas, you experience the extreme right. On the west coast, you can witness shoplifting with minimal consequences. Not only has abortion been banned in Texas, but a law was recently passed that rewards citizens with $10,000 for reporting women who have undergone abortions. When you witness such things and the domination of extremists in the country, you start realizing that in Israel, there is a higher chance that things will eventually work out. Even though extremists may currently set the agenda, it won't last. Ultimately, rationality will prevail."
But this could take time, and we know that polls do not always reflect the reality at the ballot box when the moment of truth arrives.
"The most important thing is that people do not leave Israel, and that's the only danger. Not only techies but also doctors, industrialists, and academics. I don't see that happening at the moment. We've always had requests for relocation, and while there might be slightly more now, it's not unusual. Ultimately, there is nowhere else to go, not just in the United States, but also in Europe, where the extreme right is gaining strength. I blame social networks for creating this reality. I mentioned this four years ago – Facebook, Twitter, and TikTok encourage extremism and pose a significant threat to democracy."
Zuk made these statements in an interview with Calcalist at the end of 2019. He also added with his characteristic determination, "Facebook is not our client and will not be." Since that interview, Palo Alto's market value has tripled from $24 billion to almost $80 billion today. The number of employees has also doubled from 7,000 to 14,000, and revenues nearly tripled from $2.9 billion to over $8 billion in Palo Alto's last fiscal year that ended in July.
Palo Alto expects revenues of $11 billion next year. The company's Israeli presence has also doubled since then, employing nearly a thousand workers in its Tel Aviv offices.
Many of your colleagues in the local high-tech sector are quite pessimistic, believing that the damage inflicted over the past year on the economy in general, and high-tech in particular, is irreversible and will take years to repair.
"The state of Israeli high-tech is not good. Raising capital is extremely difficult due to the current situation," Zuk lamented. "I travel abroad with companies I'm involved in to raise capital, and a significant portion of those meetings focus on questions about the turmoil in Israel. Investors often don't delve into the details, and not everyone even cares which side will emerge victorious. They invest in Saudi Arabia, China, and India as well, but what they all seek is certainty, and without it, they are hesitant to invest here."
How do you know it's not merely a convenient excuse, and the reluctance to invest stems from concerns about the quality of the idea or technology?
"Let me provide a recent example. A major investor conditioned their investment in a company I was involved with in the medical devices field on moving production out of Israel. This wasn't a rejection; it was an agreement with a condition. The company started working toward meeting this condition to secure the investment because there was no other option, despite ample available capital worldwide. However, selectivity has also increased."
How do you address investors' selectivity and reluctance to invest in Israel? What's your response?
"I explain to them that this is a temporary situation. The foundations of the State of Israel and Israeli high-tech have not changed and will not change. Above all, I demonstrate that I'm investing my own money here, and they should join me. In the past year alone, I've personally invested NIS 100 million (approximately $26 million) in Israeli companies. These investments are not in cyber companies because I avoid investing directly in that sector to prevent conflicts of interest. Instead, I invest in fintech companies, medical device companies, and local businesses. My optimism arises from these investments."
What is the source of this optimism, both yours and theirs?
"In the end, there will be a solution, and that solution is certainty, which will come once the threat of regime change is no longer on the table. Investors are searching for certainty."
Although he doesn't participate in protests or publicly express his views like many other high-tech executives, he is known to be active behind the scenes, primarily through donations to support the protests.
The NIS 100 million Zuk speaks about does not include his substantial investments to establish the new digital bank, ESH Israel, of which he is one of the founders.
"We obtained a banking license, but this is just a milestone in terms of launching the service, and we are currently awaiting approval from the Bank of Israel. I believe we have assembled the best board of directors for an Israeli bank," Zuk stated confidently. The bank's board of directors includes prominent business leaders, former Israel Securities Authority chairman Shmuel Hauser, who serves as the bank's chairman. His deputy is Nadine Bodo Trachtenberg, former deputy governor of the Bank of Israel. Ester Levanon, former CEO of the Tel Aviv Stock Exchange, and Kira Radinsky, a renowned computer scientist, are also on the board.
You never fail?
"There was an unsuccessful investment that I eventually closed. The model was based on trusting an Israeli regulator," Zuk noted wryly. "In all the fields I'm involved in, there's room for innovation and improvement of existing systems. I encourage every entrepreneur and innovator in Israel to change the way things work and not simply replicate existing models. What all the ventures I invest in have in common is their potential to enhance people's lives. Today, we provide cybersecurity for all security forces in Israel, almost all the banks, essentially securing the State of Israel."
Is the focus primarily on Israel? Would you invest in Indian startups, for instance?
"I concentrate on investments in Israel, and all the companies I invest in are registered here."
This year, it's said that most new startups didn't register in Israel due to the ongoing political turmoil.
"Traditionally, I recommend that Israeli companies register their intellectual property outside of Israel. This practice is not related to the current situation or any negative sentiments towards Israel. It has always been done this way because it simplifies sales. Most American companies, when acquiring Israeli firms, prefer to relocate the intellectual property outside Israel. They do so despite the added cost, as this process increases the acquisition cost by 30%. Therefore, I advise entrepreneurs to account for this additional 30% when making their exit."
Is Palo Alto also following this practice in its acquisitions of local startups?
"We only did it once when we acquired Cybera a decade ago. There's no real need to move intellectual property out of Israel; it's just a common practice among American companies. Moreover, the tax rate in Israel is currently relatively low," Zuk explained.
Regarding the registration of the company itself?
"There's no reason not to register the company in Israel."
How do you see the next year unfolding for Israeli high-tech?
"The American economy remains unexpectedly strong, and high-tech will continue to benefit from it. A strong dollar is advantageous for all businesses in Israel, including exporters, startups, and foreign employers here. As for the citizens, they might need to cut back on international travel or opt for closer destinations. I hope we achieve stability in the near future, which will also restore investor confidence."