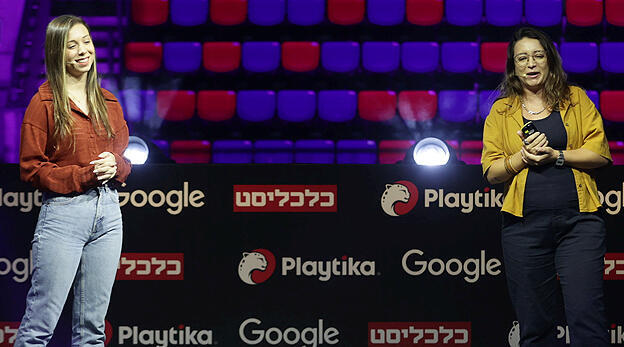 Gaming conference
"Generation Z lives and breathes gaming"
Miryam Gadiel, a YouTuber, content creator for Gen Z, and a member of Google's marketing team, was speaking at Calcalist's gaming conference together with Anna Fishbein, an Industry Manager on the gaming team at Google
Omer Kabir
|
15:01 14.09.2023
"Gaming is now an integral part of Generation Z's lifestyle; it is no longer confined to the solitary gamer playing alone in their basement," said Miryam Gadiel, a YouTuber, content creator for Gen Z, and a member of Google's marketing team, during the Calcalist gaming conference in collaboration with Playtika and Google in Tel Aviv.
"When we refer to Generation Z, we are talking about individuals aged 11-26, constituting 20% of the world's population," explained Gadiel. They possess a purchasing power of $143 billion, and one of their remarkable shared characteristics is their passion for gaming. According to a 2021 survey, over 80% of Generation Z has played computer games in the past year, which is 50% more than Millennials. They spend nearly 80 hours per week gaming. For Generation Z, gaming isn't just another pastime; it holds a significant place in their social activities."
"When you grasp the significance of gaming in their lives, you'll observe the following phenomenon: they not only enjoy playing games but also consume gaming-related content—over 80% watched gaming content in the last year. Where do they watch it? Thirty percent of daily viewers on YouTube belong to Generation Z, making it their preferred platform. Among Generation Z, gaming is the second most-watched category on YouTube, with 2 trillion views of gaming videos in 2022. Generation Z lives and breathes gaming, integrating the latest trends into their gaming experience. If you can engage them, you'll gain a dedicated and loyal audience that invests significant time and money."
Anna Fishbein, an Industry Manager on the gaming team at Google, explained how game creators and gaming companies can reach Generation Z. "First, you must recognize their extensive presence," she stated. "Generation Z members consume content on various screens, often simultaneously. For instance, they watch YouTube on TV while playing games on their phones. There are also various content formats, including short videos, long videos, and live streams. Each format has its nuances to which content should be tailored. Google offers platforms to make content available in all formats and provides various advertising options, along with automated campaigns to connect with the right viewer at the right moment."
"Generation Z also generates diverse content and experiments with various creative tools. Therefore, it's essential to communicate with them in a language they are familiar with and love. You can leverage user-generated content. It seamlessly fits the platform, is familiar, yet remains fresh. This approach helps prevent a scenario where a trend starts, brands join in, annoy everyone, and the trend dies out. Gaming is a routine for Generation Z; hence, when selecting creators, you can reach a diverse and high-quality audience by collaborating with creators from the gaming industry as well as creators from other fields.
"Lastly, attention should be given to issues of diversity and inclusion. Generation Z, as a whole, and gamers, in particular, form a highly diverse group. For instance, in the US, 16% identify as LGBT, compared to about 7% of the general population. They desire representation in the content they consume. There are numerous ways to demonstrate diversity, including gender, LGBT, and ethnic groups. This applies not only to in-game simulations but also to the advertising content being produced. These are significant values for Generation Z, and they prefer to support brands that share these values."