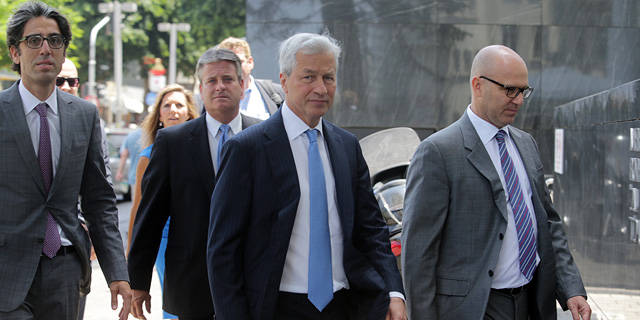 On a Two-Days Visit to Israel, JPMorgan's Jamie Dimon Slams Regulation
The head of America's largest bank met with Israeli Prime Minister Benjamin Netanyahu and with Israeli business leaders, saying the bank intends to open a technology center in the country. Identifying himself as a Democrat, Mr. Dimon said he hopes Trump's administration will repeal regulation
Meir Orbach and Adrian Filut
|
15:01 09.07.2017
In a two days visit in Israel, JPMorgan Chase chief Jamie Dimon met with the Israeli prime minister and Israeli business leaders. Mr. Dimon said the bank plans to establish a technological center in Israel, which will employ around 200 people, said people who attended some of the events where Mr. Dimon spoke, on conditions of anonymity.
After arriving in the country on Tuesday, Mr. Dimon's visit began with a meeting with Israeli Prime Minister Benjamin Netanyahu and members of his staff. During the meeting, Mr. Dimon praised the performance is Israel's economy and discussed possible means by which to increase JPMorgan's involvement in the country.
On Tuesday night Mr. Dimon attended a formal dinner at the King David Hotel in Jerusalem, with dozens of prominent executives from Israel's banking, energy and technology sectors.
At the main table with Mr. Dimon sat Israel's top bankers, including the heads of Israel's three biggest banks, and local business magnets, including Yitzhak Tshuva, the main stakeholder in the gas reservoirs found off Israel's shore.
Identifying himself as a Democrat, Mr. Dimon expressed his displeasure with former U.S. President Barak Obama given his administration's stance on regulation, said the persons who attended the event.
A member of a business council of top executives advising the current administration, Mr. Dimon said he hopes President Trump will repeal burdening regulation, they said.
Mr. Dimon also referred to criticisms about his compensation package, which last year amounted to 28 million dollars, these persons said. Mr. Dimon said institutional organizations that criticize these levels of pay invest in private funds which pay much higher salaries, these persons added.
On Wednesday Mr. Dimon had lunch at the private residence of Eyal Waldman, co-founder and CEO of Tel-Aviv based chip-maker Mellanox Technologies, in a trendy Tel-Aviv high-tower. Among the guests were leaders of the local high-tech industry such as Check Point's Gil Shwed and Gett's Dave Waiser.
A JPMorgan spokesman declined to comment.