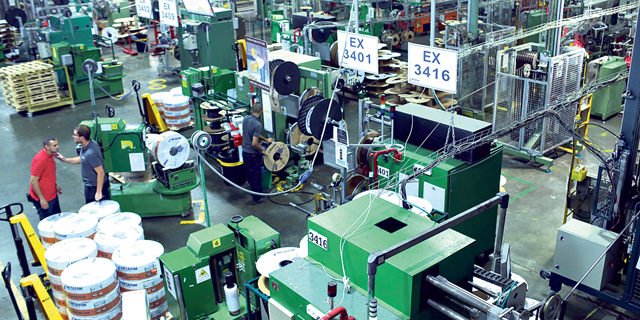 Mexichem Agrees to Buy 80% of Netafim for $1.5 Billion
Mexichem's last moment offer outpriced other bids for the Israel-based drip-irrigation pioneer
Golan Hazani
|
14:47 07.08.2017
Mexico-based pipes and chemicals company Mexichem has agreed to buy an 80% stake in Israel-based drip-irrigation pioneer Netafim for $1.5 billion, according to two people familiar with the matter who spoke on conditions of anonymity. The deal is expected to be signed later today, these people said.
"The process of finding our new partners took months, and we are happy it ended successfully," said a Eli Ben Simon, a representatives of Kibbutz Hazterim, one of the major stakeholders in Netafim. "As a partner, Mexichem has many synergies with Netafim, and it will aid in leading the company to continue its aims as a global leader in irrigation," said Mr. Ben Simon who took part in the negotiations leading to the deal.
Headquartered in Hatezerim, a kibbutz in Israel's south, Netafim is the largest drip-irrigation manufacturer in the world. Water scarcity has made Israel into a hotbed of water related technologies, and the country is regarded as a leader in advanced irrigation systems and desalination processes.
In 2011, London-based private equity firm Permira acquired 61.3% of the Netafim's shares at a valuation of $850 million.
Mexichem was one of the several contenders bidding for Netfaim. Singapore's governmental holding company Temasek Holdings was regarded as the leading contender among people familiar with the bidding process until last week.
Other bidders included Connecticut-based toolmaker Stanley Black & Decker, and industrial corporation Colfax, based in Annapolis, Maryland, the people familiar with the matter said.
China-based investment firm Primavera Capital Group, and industrial company Fortive, based in Everett, Washington, have withdrawn their bids.
Mexichem's last moment offer valued Netafim at $1.8 billion, beating Temasek's offer, which reflected a value of $1.75 billion for the Israel-based manufacturer.
Mexichem will buy Permira's 61.3% stake in Netafim along with an 18.7% stake owned by two Israeli Kibbutzim - Kibbutz Hatzerim and Kibbutz Magal.
Netafim's sales in 2017 are expected to total $900 million. In recent years, the company launched irrigation products tailored for crops including corn and sugar cane and invested in manufacturing facilities in China and India.
The deal to be signed will state that the operation of the irrigation company will remain in Israel in the next 20 years According to the deal to be signed later today.
The sale of the company was handled by Goldman-Sachs and Merrill Lynch.