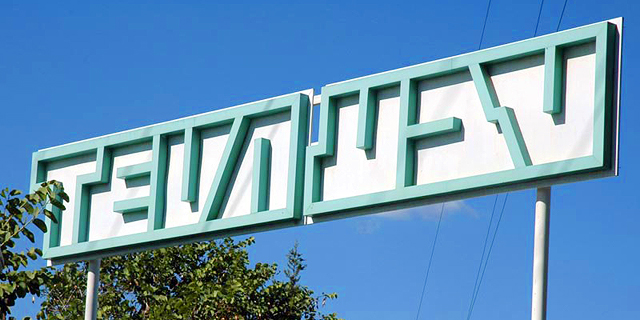 Teva's Stock Drops After Approval of Copaxone Competitors
A day after Mylan announced FDA approval for its generic versions of Copaxone, drug companies Synthon and Alvogen announce European approval for their 40 mg/ml generic versions of Teva's blockbuster drug
Lilach Baumer
|
10:32 08.10.2017
On Thursday, generic drug companies Synthon and Alvogen announced they received European approval for their versions of 40 mg/ml of Copaxone, Teva Pharmaceutical Industries Ltd.'s blockbuster drug for multiple sclerosis. The announcement came a day after rival Mylan N.V. announced it received Food and Drug Administration approval for its generic versions of Copaxone.
Mylan's announcement came a few days after FDA Commissioner Scott Gottlieb posted on the FDA's official blog FDA Voice, announcing a new set of policies intended to encourage generic competition for branded drugs like inhalers and some injected drugs – such as Copaxone.
Following both approvals, Teva's stock dropped by 15.3% by Friday market close.
Teva's patent for Copaxone expired in August 2016. The drug is used to treat relapses in patients with Multiple Sclerosis, a chronic inflammatory disease of the central nervous system.
On Wednesday, Teva issued a statement saying that any launch of a generic 40mg/ml version by Mylan prior to a final resolution of the pending patent appeals and other patent litigation should be considered an "at-risk" launch, which could subject Mylan to significant damages. Teva is currently appealing in the U.S. Court of Appeals for the Federal Circuit two previous decisions that invalidated its Copaxone patent. The company also issued a suit against five Abbreviated New Drug Application (ANDA) filers, including Mylan, for infringement of a patent. Netherlands-based Synthon and Pine Brook, New Jersey-based Alvogen received approval for their generic versions of Copaxone 20 mg/ml in 2016 and have been marketing their products in Europe as of the end of 2016, prompting Teva to file an injunction in 19 European countries. In September 2017 the European Patent Office revoked the last of Teva's patents in Europe, paving the way for last week's approvals. Teva anticipated it could be affected by at least $0.25 cents per share in response to Mylan's announcement, but added that the company has planned for the eventual introduction of a generic competitor and remains confident in patient and physician loyalty to the brand drug. The company has yet to respond to Synthon and Alvogen's announcement.