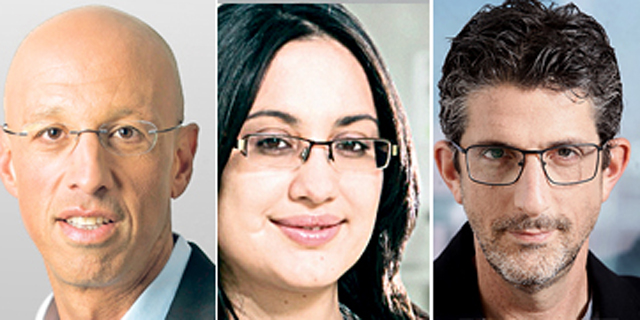 Big Data Experts to Convene at Conference in Tel Aviv
Alongside the Mind the Data conference, Calcalist will also be hosting a competition for startups focused on big data
Omer Kabir
|
14:59 22.11.2017
Calcalist will host its annual Mind the Data conference on November 27 at Tel Aviv's David InterContinental hotel. The conference will feature speakers in the domains of tech, medicine, biology, the military, and also from the automotive and defense industries.
For daily updates, subscribe to our newsletter by clicking here .
One of the main speakers at the conference will be Julia White, a senior vice president at Microsoft who is in charge of marketing the company's cybersecurity and cloud products. Ms. White joined Microsoft in 2001 as a product manager in the company's industrial servers team. She began managing the company's sales and marketing initiatives in the U.S. in 2005 before being appointed to a senior role as marketing manager for Microsoft's Exchange product line. In 2012, she became the manager of the Microsoft's Office division, a position which she held until 2016 when she assumed her current position.
Big data and medicine
Roy Sasson is a senior product analyst at Google and a lecturer at Tel Aviv University, specializing in the field of econometrics and data science. Mr. Sasson will discuss big data and economics.
Oren Sagi is the general manager of Cisco Israel and one of the most influential people in the local tech industry. Mr. Sagi previously worked as a lawyer.
Harel Tayeb is the CEO of Tel Aviv-based Kryon Systems, a company developing robot automation software. The company raised $10 million in an investment round last month. Efi Cohen is the chief technology officer and co-founder of Datorama Ltd., a company developing artificial intelligence-powered software for marketing. Saar Wilf is the founder of Rootclaim, a startup developing statistical models for assessing the validity of news reports, using crowdsourcing and artificial intelligence.
Mining text for insights
Ely Razin is the founder and chief executive of New York-based CrediFi Corp. a startup that offers data about the commercial real estate market, including information about assets, liabilities and risk factors.
Prof. Ronen Feldman of Hebrew University is a founding partner of Amenity Analytics, a company that develops text mining software. Mr. Feldman is one of the leading experts in artificial intelligence and text mining. Yuval Baharav is a general partner at venture capital firm State of Mind Ventures. Mr. Baharav previously served as the CEO of several startups. Yaniv Erlich is the chief scientist of Israel-based MyHeritage Ltd., an online genealogy service. He is also a professor of computer science at Columbia University. Karina Odinaev is co-founder and chief operating officer of Cortica, a Tel Aviv-based startup that develops computer vision technology that enables machines to emulate how humans see. Israel-based Bank Leumi will be sending several speakers to the conference, including Chief Technology Officer Ilan Buganim, head of big data Eyal Barzilai, and head of cybersecurity Moti BenMocha. Accounting firm KPMG will be represented by Moran Ben Gigi, a partner at the firm and its head of data and analytics, and Roni Michael, who is the head of IT Advisory at KPMG Israel. Telecommunications company Bezeq Group will be sending Chief Marketing and Innovation Officer Gil Rosen. Online directory company Zap Group will be represented by CEO Ilan Zachi and VP of marketing Amit Sagi.
The award for the first place will include a special visit to Microsoft's worldwide headquarters in Seattle and to the company's Executive Briefing Center in Brussels, as well as meetings with senior executives at Microsoft's research and development center.