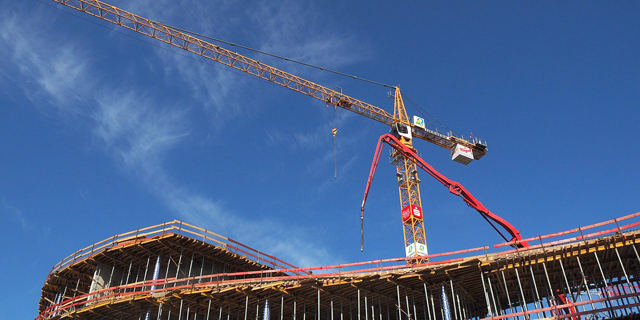 Q&A
Uniqai Systems Wants to Streamline Construction Planning
Co-founder Nadav Poplawski's early-stage startup is bringing machine learning- and artificial intelligence-powered software to the construction domain
Nadav Poplawski, 43, a father of three who lives in Kibbutz Alonim in the north of Israel, is the chief executive of construction planning software startup Uniqai Systems Ltd. Founded in 2016, the Tel Aviv-based early-stage startup has not yet raised an investment but it reports a contract worth one million dollars with a public sector customer.
For daily updates, subscribe to our newsletter by clicking here.
Mr. Poplawski founded the company together with Avner Hatsek, the startup's chief technology officer, and Elior Ariel, the company's vice president of research and development.
Q: How do you explain what your startup is about?
A: We use algorithms and computing capabilities to shorten total planning time by solving, faster and in a more precise manner, problems faced by planners in the construction domain. We also aim to improve overall plan quality by reviewing and optimizing the building plans, resource allocation, schedule and budget according to rules and regulations, industry best practices and terrain analysis. We use machine learning techniques to create a "self-learning" system, which constantly improves the planning process.
The product that the client gets is software for planning projects that improves all aspects including the model, budget, and schedule.
The value the client gets is an improved planning in a much shorter time frame, which allows building better and faster with increased total project profitability.
Q: Who came up with the idea for the startup and how?
A: The idea was created through two "parallel" lines. Avner and Elior came up with the idea following very successful academic research and proof of concept. I created a concept based on "field-generated" need. These two lines were paired by wise and experienced external entrepreneurs who created the initial spark.
Q: What is the current status of the startup?
A: In the homeland security and defense domains the company has completed a successful proof of concept, and signed a one million dollar contract with the Israeli Ministry of Defense to continue to full-scale product development. On top of this, the company is pivoting to a new domain, the construction domain.
Q: According to your clients, what products compete with yours?
A: Current solutions for construction planners include traditional CAD (computer-aided design) solutions such as AutoCAD by Autodesk which are relatively easy to use and widespread.
More modern and sophisticated—though more expensive and hard to master—solutions are Information Modeling-based products such as Revit by Autodesk and ArchiCAD by Graphisoft which provides more functionality and value for planners.
Q: What's next in line for the company?
A: As part of the SOSA Construction Tech Innovation Zone (CIZ) program, the company is at the final stages of completing a thorough "problem-focused" process and will soon create a minimum viable product, aiming to start a proof of concept with one of the top construction firms, to validate the value proposition and feasibility and start a seed funding round.
Q: What do you now know about running a startup that you wish you knew before founding the company?
A: The importance of focusing on the problem and accordingly, the value proposition; and the importance of always be striving to improve the product-market fit.
Q: What is your company's vision?
A: To help planners create better plans which lead to outstanding results.
Q: What makes your team the right one for taking on this challenge?
A: The unique combination of strong and tested artificial intelligence skills and the ability to execute and scale; previous track record in creating a revolutionary idea, validating it, and creating a product that delivers considerable value to end users based on this idea.