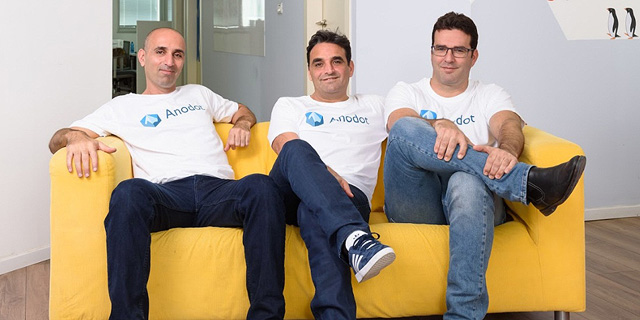 Business Analytics Company Anodot Raises $23 Million
Israel-based Anodot uses AI technology to track the performance of retail, internet and mobile clients such as Microsoft, Waze, and Lyft
Amarelle Wenkert
|
20:00 19.12.2017
Israeli business analytics startup Anodot Ltd. announced on Tuesday a $23 million Series B investment led by Luxemburg-based venture capital firm Redline Capital Managementת with participation from existing investors Aleph Venture Capital and Disruptive Technologies Venture Capital.
For daily updates, subscribe to our newsletter by clicking here.
Anodot develops and provides business analytics services to ecommerce, retail, internet and mobile clients, including companies such as Microsoft, Foursquare, Lyft, Wix, and Waze.
Anodot was co-founded in 2014 by David Drai, who previously co-founded content delivery network Cotendo Inc., bought in 2012 by Akamai Technologies Inc. for over $250 million. Anodot's other founders are Ira Cohen, former Chief Data Scientist at HP, and Shay Lang. The company employs 45 people in its offices in Silicon Valley and in Ra'anana, 13 miles north-east of Tel Aviv.
"Traditional business intelligence focuses on dashboards and other tools that analyze historical data, focusing on specific portions of data and addressing pre-defined queries," Benno Jering, principal at Redline Capital, said in a statement. "Anodot addresses a completely different need by surfacing the issues you wouldn't know to ask about, across constantly changing massive amounts of data."