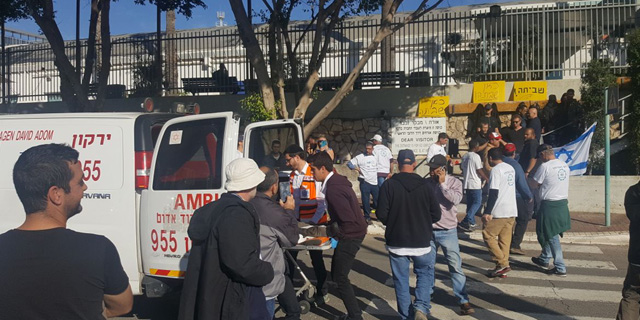 Workers' Strike at ECI Ends, 60 Employees Would Be Let-Go
On Thursday, tear gas was released outside the headquarters of the Israel-based telecom supplier as the labor dispute between ECI management and its employees escalated
Meir Orbach
|
16:37 12.01.2018
The ECI Telecom Ltd. employee strike ended Friday, after ECI agreed to layoff 60 employees instead of 100, as the company had originally planned, ECI said.
For daily updates, subscribe to our newsletter by clicking here .
ECI union representatives supported by representatives of Israel's largest labor federation negotiated with the ECI management overnight on Thursday until the two sides reached an agreement, the company said.
A spokesperson for ECI said Friday that the company is pleased to have reached an understanding regarding the downsizing process, which will secure the company's financial strength.
The ongoing showdown between ECI and its employees escalated on Thursday when tear gas was released at the picket line outside the company's headquarters in Israel. Each side has accused the other of instigating violence and spraying the gas.
Israel's largest labor federation said security guards hired by the telecommunications equipment supplier physically attacked picketers and also sprayed them with tear gas.
"ECI's management has lost all touch with reality and with compassion for human dignity by hiring a thuggish security agency that will use any means to harm the workers," said a federation spokesman on Thursday, adding that none of the strikers or the union representatives brought tear gas to the picket line.
Giora Bitan, ECI's chief financial officer, said in an interview Thursday that the labor federation's intervention in the dispute is what led to the violence and accused federation representations of using tear gas.
The federation has "a whole department of provocateurs who organize protests," he said. "They come every morning and instigated violence at the entrances, where the workers are picketing and blocking the way of those who want to work."
ECI also released a statement saying it would file a complaint with the police over the violence. It is unclear if Israel Police is aware of the incident. Four Israeli police spokespersons did not reply to requests for information.
ECI employees have been striking since the beginning of the week as part of their efforts to stop a plan announced in December to lay off 100 workers.
ECI announced the layoffs even as the company has been experiencing steady growth in sales. But according to Calcalist's reporting from last week, the company is expecting to encounter a series of challenges in the coming year. Two sources who are familiar with the company's financial said the concerns include low profitability in India, reduced government support in Israel, and a strong shekel.