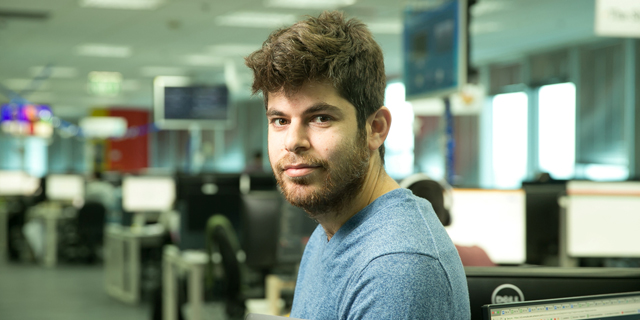 One Israeli Startup Reveals the Numbers Behind The Country's Tech Talent Crunch
Marketing startup Yotpo spent nearly $15 million on recruitment efforts in 2017, same as it did on R&D, according to CEO
Maayan Manela
|
15:12 12.01.2018
In 2017, Israeli user-based marketing startup Yotpo ltd. spent $14.7 million (NIS 50 million) on recruitment efforts. The company reviewed 13,000 CVs, held 3,000 hours of interviews—including 1,300 in-person interviews, made offers to 100 people and ended up hiring 93 employees to its office in Tel Aviv, according to CEO Tomer Tagrin.
For daily updates, subscribe to our newsletter by clicking here.
Mr. Tagrin told Calcalist in an interview held earlier this month that the company spent the same amount on hiring and keeping its employees in 2017 as it did on research and development. "When I say this out loud, it does not make sense," Mr. Tagrin said.
In November, Yotpo announced it raised $51 million in Series D, bringing the company's total equity funding to $101 million.
"We looked into what are the things in which we invest the most time, resources, money, and energy, and we realized we invested the most in recruiting employees," Mr. Tagrin said. "There is no task more complex than recruiting," Mr. Tagrin said, listing growing competition over tech talent in Israel as a key challenge.
2017 saw a 7% increase in outsourced jobs in the Israeli tech sector, at least in part as a result of "an effort to adapt to the existing shortage in employees," according to Eyal Solomon, CEO of Israel-based human resource management firm Ethosia-Human Resources. Graduates with less than two years of experience have benefited from the current conditions, with novice hardware and software engineers bringing in salaries 20% higher than in 2016, Mr. Solomon told Calcalist in December.
According to a December report by Ethosia, competition over tech talent is only expected to intensify in 2018. Tech employees are expected to see their salaries increased as multinational companies expand research and development operations in Israel, with artificial intelligence and augmented reality specialists being the most sought-after talents, according to the report.
Companies like Yotpo, which employ several hundred people, face competition from tech giants like Amazon, Facebook, and Google, which offer high wages, and from early-stage startups, which offer the opportunity to get in on the action early and "make a difference."
Mr. Tagrin said he believes about 90% of Yotpo employees who accept jobs outside the company do so for a substantial raise. "I do not doubt that competition with the large companies is heating up the market," Mr. Tagrin said. "When we launched in 2011 the salaries were on average half what they are today."
Earlier this week, Israeli tech executives took to social media to attack what they described as Amazon's aggressive recruitment policies in the country.
In a Facebook post published Tuesday, Shai Wininger, president of insurance startup Lemonade Inc., said Amazon is "actively trying to poach Lemonade employees." In a later comment, Mr. Wininger said he is concerned that Amazon is bringing new standards to the local market, introducing salaries that are three times what Israeli startups are now paying their employees.
"It is all about wrecking everyone else's business to get a few employees quickly," Mr. Wininger wrote. "If you buy a home in a quiet, friendly neighborhood, and want to become a pillar of that community, you don't go around tearing your neighbors' houses to the ground, just to make some room for your new tennis court and pool," he added.
The post received many sympathetic comments from the CEOs and founders of Israeli startups, among them Liad Agmon, CEO of website personalization company Dynamic yield Ltd., tech entrepreneur Eyal Gura, who is the co-founder, president and chairman of the board of Zebra Medical Vision Ltd., and Amir Konigsberg, co-founder and CEO of e-commerce startup Twiggle.
In an interview with Calcalist on Wednesday, Ishay Green, Spot.IM's co-founder and chief technology officer, said Amazon's practices are "terrible" for the tech industry in Israel. Mr. Green said Amazon must have realized that it is more cost-effective to poach engineers from Israeli startups with offers of market-breaking salaries than acquiring whole companies. He said Facebook has been following the same rulebook when it comes to hiring.
Amazon, which has recently leased 11 stories in a Tel Aviv high-rise, is planning to recruit around 100 employees in the country for a new unit focused on the development of Alexa functions.
Chip companies Intel and Nvidia, travel booking platform Booking.com, and finance software maker Intuit Inc. are among the international companies who have announced plans to open Israeli research and development centers in 2018.
Multinational tech companies are only one part of the story. According to Mr. Tagrin, the meteoric rise in tech salaries is driven to a great extent by small startups. "There's a lot of money today in seed investments," Mr. Tagrin said. "We don't just lose employees to Amazon, we start losing them for five people working out of a garage," he said.
One thing that has happened as competition over talent grew is that companies now go after people who previously had a lesser chance of being hired, like older candidates and women, Mr. Tagrin said. "We are known for betting on potential, not experience, but today there are positions for which we specifically look for highly experienced people," Mr. Tagrin said. "We noticed that the number of births in the company is six times what it used to be because we are bringing in older people."