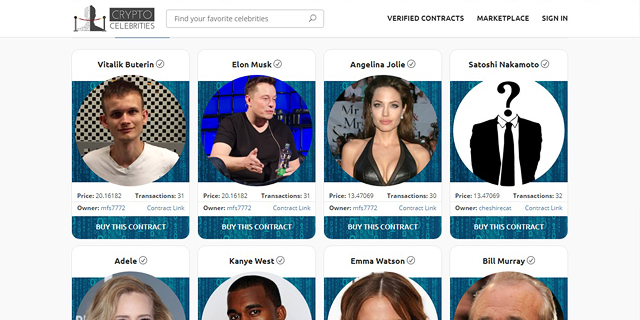 Exclusive
There's a New Crypto Marketplace that Lets You "Buy" Celebrities
The next big blockchain game is here and it's called CryptoCelebrities. Users spent a million dollars in ether on celebrity tokens within 24 hours of the game's launch
Asaf Shalev
|
16:54 22.01.2018
Crypto? Check. Celebrities? Check. A chance to compete with other people and make money through speculative investing? Check. All the ingredients are in place to make a new online game called CryptoCelebrities go viral.
For daily updates, subscribe to our newsletter by clicking here .
Similar to collecting rare baseball cards in the physical world, the game allows users to collect digital tokens of celebrities. But because each token is unique, the game can give users the feeling of "owning" Angelina Jolie, Rihanna, Jack Nicholson or any one of nearly 300 celebrities who have been so far been put up for sale on the marketplace.
Users conducted transactions totaling nearly $1 million dollars in the first 24 hours since the game launched, according to an email written by one of the game's developers. The top 128 celebrity tokens on the website are currently worth about $300,000, according to a rough calculation by Calcalist.
Launched days ago, the website hosting the marketplace has crashed several times because it can't keep up with demand.
This is how to play CryptoCelebrities: get a digital wallet and fill it with ether. Choose a celebrity and buy their digital token, or "Celebrity Smart Contract," as they are called. Now, automatically, the price of the token has doubled and someone else can buy it from you. You cannot refuse to sell.
The starting price of any celebrity token is 0.0001 ether, which is currently about 10 cents. After the first sale, the price goes up to 0.0002. A few transactions later, the token can be priced at the equivalent of thousands of dollars and more.
At the moment, the most popular celebrities are Elon Musk and Vitalik Buterin, the creator of Ethereum, who, after 31 transactions, costs 20.16182 ether each. That's $19,870, as of Monday afternoon. Angelina Jolie is worth $13,275 and Bill Gates is worth $4,844. New celebrities are being introduced on an ongoing basis.
U.S. President Donald Trump doesn't have a token, at least not yet.
The website for CryptoCelebrities describes how the celebrities themselves could get involved. If they provide an endorsement, they're entitled to a percentage on each sale of their token.
The game is still being tweaked and its base of users comes mostly from the personal networks of its developers.
What guarantees the uniqueness of each celebrity token is blockchain technology, the underlying architecture of most cryptocurrencies on the market. The tokens are part of the Ethereum network and each transaction is recorded by Ethereum's automatic public ledger.
The first major blockchain game, called CryptoKitties, allows users to buy and breed digital kittens. Launched in November, the game saw transactions totaling more than $20 million in ether within the first month, according to the New York Times.
CryptoCelebrities closely resembles Stolen, a popular app from 2015 that created playing cards out of Twitter handles. Users of the app could buy and sell the cards using in-game currency. Stolen's developer removed it from the App Store after drawing criticism by users who complained that the app allows strangers to "own" and "trade" in their identities. Many users were particularly irked because when the app first launched, there was no way to opt out of Stolen.
An interview with tech news site The Verge, Stolen's creater Siqi Chen explained why he pulled the plug. "Our goal with taking it down today has just been to make sure we stop what is happening – that we stop the harm, real and perceived, that people are getting from the existence of our product We didn't spend hours and months, sweat and tears to build something like this and have people see it this way. This is not who we are."