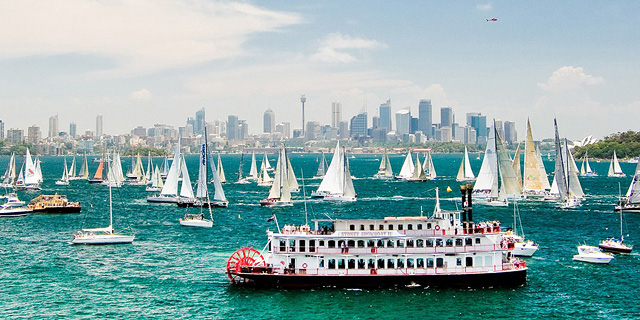 Opinion
Israeli Tech Is Flying High Down Under
The Australian Securities Exchange is becoming a hotbed for innovative Israeli tech companies looking to raise capital
Doron Zauer
|
11:31 29.01.2018
As we enter an era in which the world's most valuable resources are no longer mined from the ground, it comes as no surprise that Australia is repositioning itself to capitalize on a different kind of boom–one of digital innovation. This, coupled with an immense Israeli tech landscape eager to finance growth, has culminated in the Australian Securities Exchange (ASX) becoming a hotbed for innovative Israeli tech companies looking for new ways to raise capital.
For daily updates, subscribe to our newsletter by clicking here.
Since 2015, 14 Israeli tech companies have flocked to the ASX. A total of 16 Israeli companies are currently listed, with a few more still in the pipeline. Most of these companies have listed through a method known as a reverse takeover (RTO): accessing the market via one of the many shell companies listed on the ASX, most of which are the remains of an Australian mining boom that once was. Today, tech has replaced mining as a core industry in Australia, and data has become the contemporary equivalent to oil. As a result, Australian investors are hungry for innovative Israeli tech startups.
An RTO, otherwise known as a backdoor listing, circumvents some of the hurdles of a traditional IPO. It is perceived as both a faster and cheaper method of listing on the ASX and provides a gateway to market for startup companies which otherwise would not meet the requirements of a listed company. Although this method of listing has been popular amongst Israeli companies thus far, the jury on RTO vs. IPO listings is still out, and there is a change in trend on the horizon. ESense-Lab Ltd., an Israeli medical cannabis company, took the more traditional IPO route to market earlier this year and has enjoyed a surge in stock-value of more than 60%.
Whether it be by reverse takeover or IPO, it is clear that Israeli companies are thriving on the ASX. The average return across the 16 Israeli companies that have listed since 2008 is 184%, and they are expeditiously approaching a combined market cap of approximately $1.5 billion (AUD 2 billion). The median listing valuation across the same pool is $25 million, while the average raise has been around $6 million. Today, the average market cap of Israeli companies listed on the ASX is $95 million. One year after listing date, Israeli companies on the ASX have thus far enjoyed an average percentage growth in share price of 94%, with a peak of 117% after five months of listing.
The ASX itself has proven eager to promote the exchange in the Israeli market, having led many delegations to Israel in recent years. According to Micha Tollman, a partner at Israeli commercial law firm Yigal Arnon & Co., the firm recently worked with the ASX to enable Israeli companies to list directly on the exchange to streamline the process of listing Israeli companies.
For Rami Mirsky, CEO of Bright Innovations Ltd., an Israeli IoT and smart city company that is currently planning to list on the ASX, the choice of the stock exchange was a straightforward one. "It's rare to find such a well-regulated and respected exchange that's so supportive of foreign tech even prior to what would be the traditional IPO stage," Mr. Mirsky said. "The ASX is actively wooing tech companies to list and is fast becoming an alternative to the more traditional exchanges."
A unique attraction of the ASX is that companies with smaller market caps can list without being condemned to a secondary market. Nor will they struggle to captivate investor interest. The IPO market in Australia is energetic, with the ASX consistently ranking in the top five exchanges globally for equity raising. Crucially, it has a rich history of supporting young companies with promising growth potential, making it one of the few global equity markets that provide access to startup capital.
According to Paul Israel, the executive director of the Israel-Australia Chamber of Commerce, this is what makes the ASX particularly attractive to Israeli companies. Mr. Israel said that the ASX offers enormous benefits since companies gain access to a broad investor-base that offers a cost-effective source of capital, as well as the option of follow-on funding.
Australia is fast becoming an alternative haven for tech companies across the globe in search of a plausible and practical source of public financing. The vibrant and increscent appetite of Australian investors has forged a market that is hungry for tech. This atmosphere is ideal for Israeli companies eager to gain access to the smart funding necessary to deploy their products across the rest of the world.
Doron Zauer is a partner at Indigo Global, a boutique Israeli investment advisory firm focused on cross-border financing transactions, working with a broad array of investors, particularly in the Asia-Pacific region. Indigo Global advises Israeli companies on foreign listings, including on the ASX.