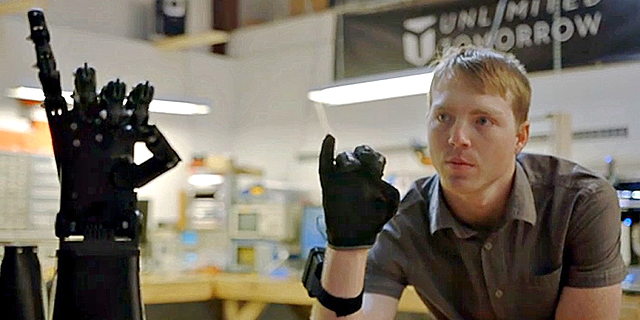 Stratasys, Dassault Systèmes, Easton LaChappelle Team Up On Prosthetic Arms Initiative
The initiative aims to provide amputees with affordable, custom-made, battery-powered prosthetic limbs, created using 3D scanners
Lilach Baumer
|
14:41 06.02.2018
Nasdaq-listed Stratasys Ltd. is teaming up with multinational 3D software company Dassault Systèmes and robotics innovator Easton LaChappelle on a prosthetic arm Initiative, the company announced Monday. The companies will collaborate with Unlimited Tomorrow, an organization founded by Mr. LaChapelle to provide amputees with affordable, custom-made, battery-powered prosthetic limbs, created using 3D scanners. The limbs can then be printed in 3D printers around the world, enabling the organization to reach patients globally.
For daily updates, subscribe to our newsletter by clicking here.
Mr. LaChappelle, a 22-year-old robotics engineer and NASA employee, founded Unlimited Tomorrow when he was 18.
According to Minneapolis, Minnesota-based Arms Within Reach Foundation, a non-profit organization assisting upper limb amputees, most arm prosthetics cost between $30,000 and $80,000. Most prosthetics have an average life span of three to five years, and the exchange rate can be more frequent for children who are still growing.
As part of the partnership, Stratasys will be the exclusive provider of 3D printing technology for the organization, and will collaborate with the organization on research, development and production of prosthetics.
"We view 3D printing as a catalyst for healthcare innovation to enable better patient care, streamline procedures, and improve learning," said Arita Mattsoff, vice president of corporate social responsibility at Stratasys, in a statement.