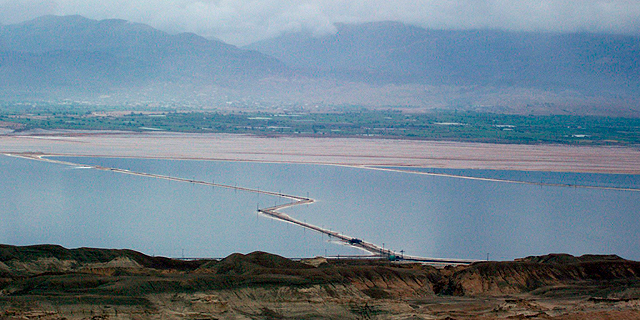 Israel's Government Sets Up Team to Save Withering Dead Sea
The Potash and salt extracted from the Dead Sea's salty water net Israel hundreds of millions of shekels a year at a dire environmental price
Omri Milman
|
18:37 06.02.2018
Israel's government is setting up an inter-ministerial team to address the Dead Sea's receding water levels, Israeli official Ram Almog said at a discussion held last Tuesday at the Israeli parliament. Mr. Almog heads the planning of international projects at Israel's Ministry of Environmental Protection.
For daily updates, subscribe to our newsletter by clicking ​here​ .
The Potash and salt extracted from the Dead Sea's salty water net Israel hundreds of millions of shekels a year at a dire environmental price: more than 6000 sinkholes have formed in the area over the last 25 years, taking down buildings, roads, and agricultural land; salt crystallization in evaporation ponds threatens to flood nearby hotels due to rising water levels.