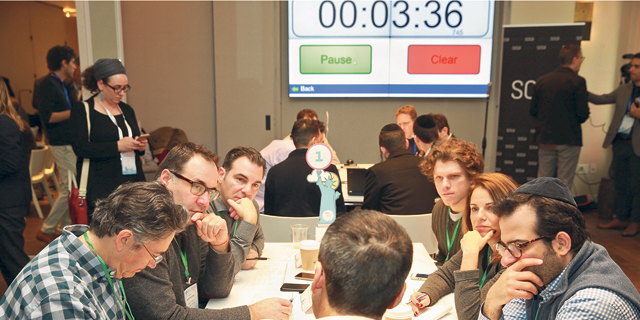 Mind the Tech NYC
10 Israeli Startups that Are Looking For U.S. Investments
Meet a few of the 120 startups that took part in the Meet & Pitch event at Calcalist's "Mind the Tech" conference in New York last week
Hagar Ravet and Omer Kabir
|
10:54 22.03.2018
120 Israeli startups, 60 U.S.-based investors, and 20 corporate executives attended the Meet & Pitch event at Calcalist's "Mind the Tech" conference in New York last week.
For daily updates, subscribe to our newsletter by clicking here.
Here are ten startups that participated in the event and presented an array of technologies in various fields including digital health, cybersecurity, internet of things (IoT), e-commerce and blockchain.
Mugo
Israeli-based startup Mugo Inc. develops a social music player that allows users to share and create playlists. Mugo also developed and patented a technology dubbed Live Share, which allows users to get in sync in with the exact segment of a song or musical piece that their friends are listening to at the moment.
Content makers' websites are flooded with ads, but as much as 50% of online ads are not even seen by users, and advertisers are sick of paying for overlooked ads, says Nathaniel Zenou, CEO of advertising startup Browsi Mobile LLC.
Workforce and human resources startup Papaya Global set out to help companies with the bureaucracy and procedure of employing people in different locations worldwide and helps them comply with local tax and employment laws.
Founded in 2016 and based in Rishon LeZion, a town in Israel's central district, cybersecurity company Cognitive ID Ltd., stylised as CognitiveID, develops a technology capable of determining a user's identity by analyzing cognitive, physiological and psychological traits.
Jerusalem-based medical startup BrainQ Technologies Ltd. aims to help patients with paralysis move their limbs without requiring surgery. The company develops a headset that uses electromagnetic fields to promote the natural recovery of a patient's brain.
Founded in 2010, MytiGO Ltd. offers sports fans the chance to reserve tickets for playoff games without purchasing full-price tickets in advance. Users buy an "option" for a playoff game and are granted the right to buy the actual ticket at face value if their team qualifies for the event.
Membit
Founded in 2016 and based in Bnei Brak, an ultra-orthodox suburb of Tel Aviv, Membit develops off-the-shelf chatbots for companies and organizations. Creating a chatbot from scratch is a long process, but with Membit, all a company has to do is choose its bot and add a single code line to its website, said Membit CEO Ruth Margalit.
Galileo Satellite Navigation
Founded in 2009, Galileo Satellite Navigation Ltd. (GSN) develops products for the civil global navigation satellite system and GPS market. The company's technology is used for mobile phones, vehicles, telecommunications, meteorology, marine applications, location-based security, military uses, and timing devices, among other applications. The company developed software capable of significantly lowering the cost of GPS components by using a device's processor. "The software uses less than 10% of the processor's computing power and does not interfere with other processing functions," said GSN founder and CEO Eli Ariel.
Tel Aviv-based delivery startup Bringoz Technologies Ltd. aims to help small retailers compete with Amazon's shipping logistics abilities. "We are democratizing Amazon's technology so that any retailer can benefit," said Doron Bakchy founder and CEO of Bringoz.
Founded in 2015 and headquartered in Palo Alto-California with additional offices in Tel Aviv, Seegnature develops a digital signing system for legally binding documents, allowing companies and individuals to finalize deals in long distance.
Seegnature's service includes sharing documents, verifying a person's identity and digital signing, said Hila Bar-Ilan, the company's director of business development. The system allows everything to be done remotely and reduces any legal risks, since the entire process is documented, Ms. Bar-Ilan added.