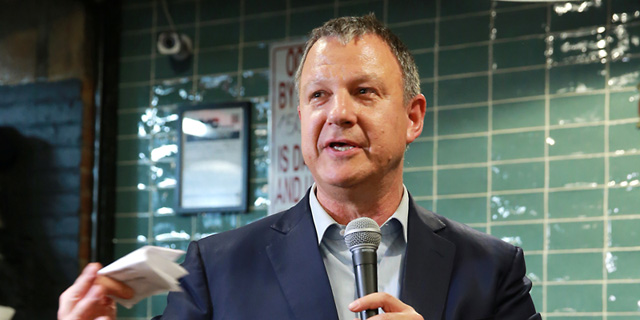 Mind the Tech NYC
Meet the 16 Semi-Finalists of JVP's Startup Competition
Multiple companies presented their technology at Calcalist's Mind the Tech Conference last week. The winning company will receive a $1 million investment offer from JVP
Orr Hirschauge
|
18:23 18.03.2018
Israel-based venture firm Jerusalem Venture Partners (JVP) hosted the semi-final round of its startup competition The New York Play, in an event held on Wednesday as part of Calcalist's Mind the Tech Conference in New York. JVP is planning to open a New York office, chairman and founder Erel Margalit said in an event held on Tuesday at a New York restaurant.
For daily updates, subscribe to our newsletter by clicking here.
JVP's competition is aimed at Israeli companies interested in expanding their operations to New York, as well as New York-based companies looking to establish operations in Israel, according to the firm. The winning company will receive a $1 million investment offer from JVP. The exact terms of the deal were not disclosed.
Each participating company made a ten-minute presentation to the judges. "We see this as any other investment, and are examining the startup's potential to succeed in the market, the size of its potential market, and its ability to effectively compete and quickly grow in sales, tech, and personnel, which is one of the most important factors for an early stage company," Mr. Tzruya said.
The first presenter was Carlos Benaim, founder and CEO of Deep Learning Robotics Ltd., a company based in Ashdod, a port town in southern Israel. The company develops a computer vision device that helps robotic arms learn tasks through the observation of production line workers. While robotic arms are extensively used in the automotive industry, they are hardly ever used in food manufacture, due to lack of engineers as well as frequent changes in ingredients and packagings, Mr. Benaim said.
Deep Learning Robotics currently sells its computer vision system together with a compatible robotic arm, but the company is examining licensing the technology to other robotic arms manufacturers, Mr. Benaim said. The system is currently installed in food manufacturing and packaging facilities in Israel and Australia.
Next on stage was Nathaniel Zenou, CEO of Browsi Mobile LLC, an advertising startup that develops a technology that helps websites maximize advertising income by customizing the location of ads on the site. Previous investors in the company include Israel-based venture capital firm Pitango Venture Capital and ad optimization company Avantis Team Technologies Ltd. Founded in 2016, Browsi is based in New York and Ramat Gan, a suburb of Tel Aviv, and has 14 employees. 50%-60% of website ads are not even seen by users, Mr. Zenou explained, adding that Browsi's technology increases the viewing statistics by 20%-70% and is already being used by some of the largest news outlets in the U.S. Jonathan Caras, CTO of Jerusalem-based Craze Inc., was next. The company, 10% of which is owned by reality television star Kim Kardashian-West, developed Screenshop, a mobile app that enables users to purchase a wardrobe based on an automated analysis of online images. What people buy is affected by what they see on social media networks, Mr. Karas said. Millennials use screenshots in order to keep track of items they are interested in purchasing, he explained, adding that the app scans screenshots for matching items in partner fashion retailers, offering users the closest outfit match available for purchase. Craze also took part in a special event featuring ten startups founded by ultra-Orthodox Israeli tech entrepreneurs, all graduates of an accelerator program by Kamatech, a nonprofit organization aiming to connect Israel's ultra-Orthodox Jewish population with the country's tech sector. The next two companies both tackled a similar issue—the management of urban traffic using smart timing of traffic lights.
Based in Glil Yam, a kibbutz in central Israel, Mobility Insight Ltd. (Mobi) was founded in 2013 by a team of experienced entrepreneurs, including Moshe BenBassat, founder of service management software company Clicksoftware Professional Services Ltd. Mobi develops smart traffic light controllers that identify vehicles that approach an intersection and time the traffic light according to the volume and type of vehicles. On Wednesday, the company announced it has set up its system in the city of Atlanta and is intending to integrate it directly into vehicles, allowing them to communicate with the city's traffic control systems.
Founded in 2009, Tel Aviv-based Axilion Ltd. develops smart traffic light timing software capable of distinguishing between different kinds of vehicles and prioritizing public transportation. Axilion's technology is currently being used in Jerusalem in order to prioritize its light rail line and the company is now launching a Manhattan pilot.