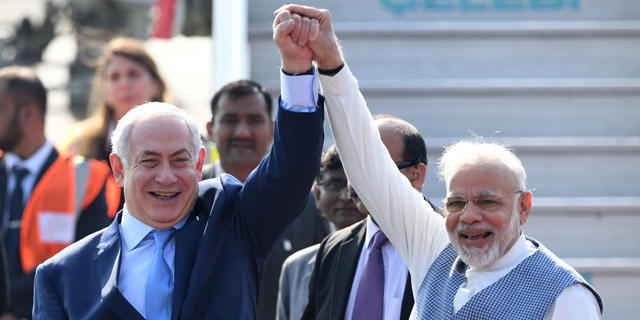 India Removes Buying Restrictions on Israeli Arms Manufacturers Rafael, IAI, Report Says
The two Israeli defense manufacturers were placed on the "restricted procurements" list after their names surfaced in a corruption investigation involving a former Indian Defense Minister
Hezi Sternlicht
|
14:27 08.04.2018
India has lifted the "restricted procurements" designation from two Israeli defense contractors, Rafael Advanced Defense Systems Ltd. and Israel Aerospace Industries Ltd. (IAI), according to a Thursday report by Indian news outlet The Print.
For daily updates, subscribe to our newsletter by clicking here.
The companies were placed on the restricted list after the Indian Central Bureau of Investigation (CBI) had named them in a 2006 corruption investigation of former Indian Defense Minister George Fernandes and Indian businessman Suresh Nanda. The CBI was looking into the 2000 purchase of Israeli Barak missiles by the Indian Navy as part of the investigation. While the investigation was concluded in 2013, the companies remained on the list until last week, according to the report.
The restricted procurements designation did not prevent the Israeli weapon manufacturers from selling arms to India but made the process more bureaucratically complex. The removal of the companies from the list is expected to make it easier for them to obtain future contracts in the country.
In April 2017, IAI announced that it had struck a deal worth almost $2 billion to supply India's army and navy with missile defense systems. A month later IAI netted a $630 million deal for the sale of Barak 8 surface-to-air missile systems to Indian state-owned company Bharat Electronics Ltd. (BEL), a supplier for the Indian navy.
In 2016, the Indian government agreed to purchase 8,000 'Spike' anti-tank missiles and 300 missile-launchers from Rafael. The deal, estimated to be worth $500 million, had since been canceled. Efforts to revive the deal were part of the agenda of Israeli Prime Minister Benjamin Netanyahu during his January state visit to India.