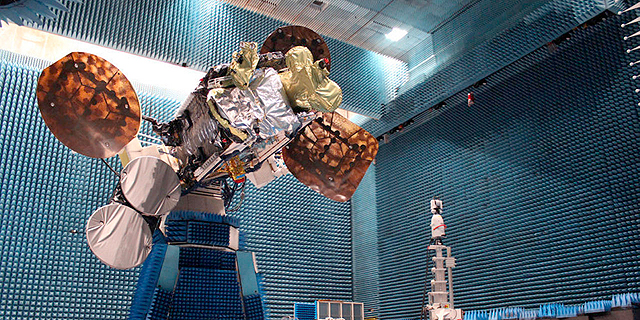 Satellite Operator Spacecom Plans to Raise $110 Million in Collateral Bonds and Bond Options
Of the sum, $50 million will be used to cover some of the costs of its new satellite, AMOS-8, intended to replace a satellite lost at a pre-launch explosion in 2016
Golan Hazani
|
13:19 10.04.2018
Israel-based satellite operator Space Communication Ltd., also known as Spacecom, is planning to raise $110 million, the company announced in a Tel Aviv Stock Exchange filling on Sunday. In order to finance its new satellite AMOS-8, Spacecom will issue a series of new collateral bonds worth $50 million, guaranteed by AMOS-8 and its assets. The company also plans to issue $60 million worth of bond options.
For daily updates, subscribe to our newsletter by clicking here.
Spacecom is a subsidiary of holding company Eurocom Group, the controlling stakeholder of Israel's largest telecommunication provider Bezeq. Eurocom, its subsidiaries and its co-owner Shaul Elovitch, are facing a total debt of around $420 million, and the future of the company is currently at the hands of its institutional creditors, which include Israel's three largest banks. Choosing to combine collateral bonds with bond options keeps the collateral bonds held by Eurocom's creditors at 35%, allowing them to keep a controlling stake in Spacecom.