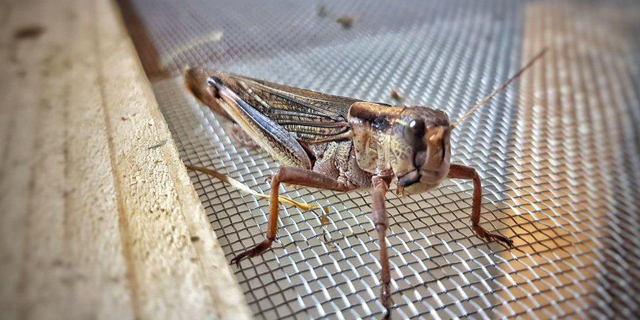 Grasshopper Farming Startup Announces $5 Million in Orders
Israeli startup Hargol FoodTech is looking to revolutionize commercial farming of grasshoppers for food, and already has companies like Ikea, Whole Foods, and the Guinness brewery interested, CEO says
Amarelle Wenkert
|
08:52 27.04.2018
Israeli startup Hargol FoodTech is looking to revolutionize commercial farming of grasshoppers for food. In a Wednesday interview with Calcalist, Mr. Tamir said companies including Ikea, Whole Foods, Guinness Stout brewer Diageo PLC, and Pepsico have already expressed interest in his company's grasshopper protein powder. Hargol already received $5 million worth of orders from customers in the U.S. and Europe.
For daily updates, subscribe to our newsletter by clicking here.
Ikea, Whole Foods, Diageo and Pepsico have yet to respond to Calcalist's request for comment.
"With the technology we developed farming grasshoppers is so efficient and modular we could feed the entire world," the company's CEO Dror Tamir said Monday, speaking at a Food and Tech conference hosted by Calcalist and by Israel's Bank Leumi at Labs TLV, a co-working and events space in central Tel Aviv.
A neutral flavor makes grasshoppers an ideal protein additive to a variety of foods, Mr. Tamir said. Unlike crickets, grasshoppers swarm, a characteristic that can be harnessed for farming in large quantities. Grasshoppers also happen to be the only bug which is both kosher and halal.
In July 2017, Hargol received a $600,000 investment from Sirius Venture Capital in Singapore and SLJ Investment Partners in The Netherlands. Then, in October 2017, it won the WeWork Creator Award, pocketing a $360,000 grant. According to Mr. Tamir, Hargol is now in the process of raising an investment of "several millions of dollar" in order to build up production to meet growing demand. The funding round is expected to complete within a few weeks.
According to Mr. Tamir, Hargol is the first company in the world to achieve efficiency in the commercial farming of grasshoppers. "We are developing new methods for industrialized farming of grasshoppers," he said, adding that these methods include a climate-controlled environment allowing Hargol to grow grasshoppers year-round; shortening the egg incubation period from 40 weeks to two, and farming the bugs vertically to increase the quantity per space times 10. "With the technology we developed farming grasshoppers is so efficient and modular we could feed the entire world," Mr. Tamir said.
Global demand for meat is projected to double by 2050, according to the U.N. Food and Agriculture Organization website. The expected strain on popular protein sources such as beef, chicken, and fish, and the strain these foods have on the environment, are forcing humanity to consider alternative sources for nutrition. These include lab-cultured meats, advances in the processing of plant-based proteins, and bugs.
The farming of bugs such as crickets, mealworms, and grasshoppers for food is hailed for having a very low water footprint, greenhouse gases emissions, requiring limited space and being nearly zero waste.
"Grasshoppers are the most efficient source of protein nature knows to produce," Mr. Tamir said, explaining they contain 70% protein, in addition to other desirable nutritional components including all essential amino acids, iron, omega-3, and omega-6.