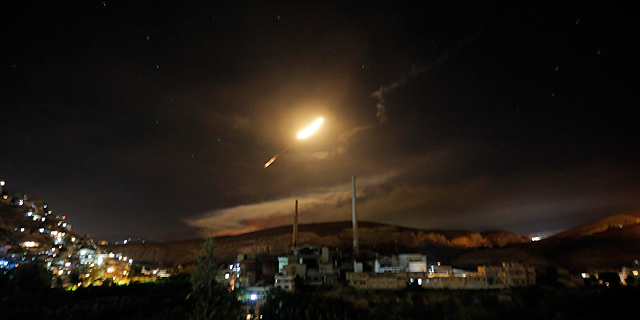 Opinion
Regional Violence Highlights a Middle Eastern Arms Race
President Trump's withdrawal from the Iran Deal unveiled a small portion of an arms race that has been underway in the last few months throughout the Middle East
Amir Rapaport, IsraelDefense
|
14:45 14.05.2018
Last week's events—President Trump's announcement that the U.S. will withdraw from the Iran Deal, the Iranian rockets launched at the Golan Heights, and the extensive strikes Israel staged throughout Syria against Iranian objectives in response—have unveiled a small part of an unprecedented arms race in the Middle East.
For daily updates, subscribe to our newsletter by clicking here.
In his speech, President Trump referred to the fact that the Iranian nuclear project, along with the effort to develop long-range missile systems and intensive involvement in terrorism, has already led the other countries of the region to massively arm themselves.
The factor that pushed this race to unprecedented proportions in Middle East history was, first and foremost, the Iranian nuclear project. As early as the outset of the present decade, Iran's neighbors estimated that the Shi'ite country was determined to obtain nuclear weapons, but after the sanctions that had been imposed on Iran were lifted under the 2015 agreement, nearly all restraints were removed.
In the past two years, the United Arab Emirates (UAE) was ranked as world's third-largest importer of arms.
The UAE has been acquiring cutting-edge weapon systems from the U.S., Russia, the U.K., China, South Africa and Finland, while at the same time developing a local arms industry. Qatar has been arming itself to the tune of tens of billions of dollars, putting down dollars at an even higher pace since it had a diplomatic showdown with Egypt last year. France sold 12 Rafale fighters to Qatar, Italy added seven frigates, and Germany threw in some tanks. The Qataris do not necessarily have the forces to operate all these weapons, but they keep buying nevertheless.
Countries in the region also purchase satellite imagery services, which are becoming increasingly less expensive and more readily available, making the entire Middle East is becoming transparent.
Commenting on the power balance in the region, Mr. Shay, said that in the long run, armament outweighs a possible qualitative advantage on Israel's side. "Eventually, the massive amount of state-of-the-art weapon systems undermines our qualitative advantage," he said.
In contrast, a former head of a division in the Mossad claimed regional armament opens new opportunities for Israel. Armament by Saudi Arabia and other countries "Is more of an opportunity than a threat for Israel," said Haim Tomer, former head of the Mossad directorate responsible with relations with potential Middle Eastern allies to Israel.
IsraelDefense
.
Amir Rapaport is founder and editor in chief of IsraelDefense, a print and online magazine focused on issues concerning the defense industry, cyber, current events, regional politics, Israeli innovation, and technologies.