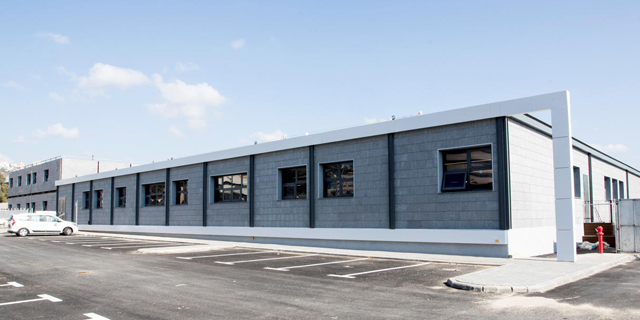 Amazon's New Israeli Offices Are Prefabs Erected on Parking Lot in Days
Amazon's widespread search for talent in the country led to accusations of employee poaching from local tech entrepreneurs
Dotan Levy and Meir Orbach
|
10:16 15.05.2018
Amazon's expansion plans in Israel are outpacing local construction speed, and the company has decided to temporarily house employees in prefabricated constructs put on a parking lot. The company has constructed modular, portable buildings on 3,200 square meters of the 12,000 meters it has leased in the northern Israeli port city Haifa, one of Israel's major tech hubs.
For daily updates, subscribe to our newsletter by clicking here.
Amazon has been approached for comment but has yet to respond.
As part of its expansion in Israel, Amazon stated in October that it was looking to hire some 100 artificial intelligence specialists. It tapped Microsoft executive Eyal Itah to head the new Alexa engineering team. Before joining Amazon, Mr. Itah was a partner director of engineering at Microsoft who oversaw the company's cybersecurity research and development in Israel. The company also recruited Yoelle Maarek, former head of Oath Inc.'s (previously Yahoo) Israeli development center, as new Vice President of Worldwide Research.
In an October Calcalist interview with Amazon's former manager of voice and advanced natural user interface Assaf Ronen, Mr. Ronen said that natural language processing and precision search will be the focus of Amazon's new operations in Israel. "Currently, only a few people have a personal human shopper that knows everything about them and can do their shopping for them according to their preferences," he said. "We want to provide that experience for everyone." In March, tech news site Recode reported that Uber abruptly rescinded an employment offer to Mr. Ronen, citing a discrepancy discovered regarding the date at which Mr. Ronen left Amazon.
In February, The Information reported that Amazon is developing artificial intelligence chips for its Alexa-powered devices, citing one source. The new chips are intended to help echo and similar devices to process data on the device rather than in the cloud, making for quicker response, The Information stated.
The space in Haifa has been leased in the city's technology and business park, Matam, which also houses companies including Intel, Google, Apple and Microsoft. The larger of the two spaces, 25,000 square meters, has been leased in the Azrieli Sarona office tower in Tel Aviv, where companies such as Facebook, Citibank and Dropbox also keep offices.
The Sarona tower opened its doors in 2018, but as the construction in Haifa is still underway, the company has decided to look for a temporary rental. Amazon first searched for building in the Haifa area, according to Larry Garner, senior director at the Israeli branch of international real estate broker Cushman & Wakefield. No co-working company in the area has enough available space, he explained. At the initiative of Matam's developers and managers, the Haifa Economic Corporation and Gav Yam Property & Building Corporation, industrial construction company Rolan Ltd. was contracted to create a temporary solution for Amazon's pressing needs. The prefabricated offices were transported to the park in 32 trucks, and constructed over several days in a parking lot located at the park's southern side.
The first half of the structure, 1,740 square meters, will see employees move in at the beginning of June, according to one person familiar with the matter who spoke on condition of anonymity. The second half will be populated at the end of July.
According to Mr. Garner, the 300 employees that will first relocate to the buildings are the employees of Annapurna Labs. The building will eventually hold over 800 people, he added.