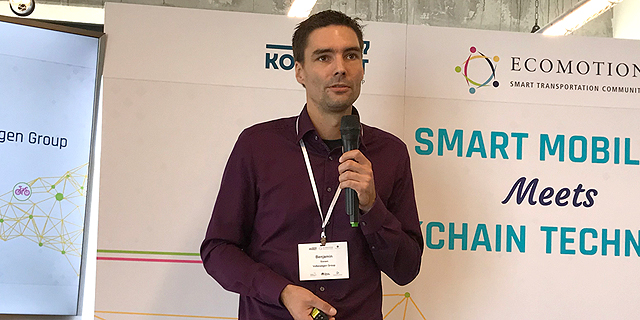 Volkswagen Sees Blockchain-Enabled Cars in Its Future
The car maker's head of blockchain gave a talk in Tel Aviv about how the company is experimenting with distributed ledgers and cryptocurrencies together with groups like Iota and Energy Web Foundation
Asaf Shalev
|
10:28 29.06.2018
Volkswagen's vision for the future includes autonomous cars that carry out transactions on behalf of their owners using cryptocurrency wallets, the carmaker's head of blockchain said on Wednesday in Tel Aviv.
For daily updates, subscribe to our newsletter by clicking here.
"We want to enable our autonomous cars to (provide) services for you and pay autonomously for these services with their own money," said Benjamin Sinram, who has been working on blockchain projects for Volkswagen since last August.
He flew to Israel to the keynote speaker at an event entitled "Smart Mobility meets Blockchain Technologies," which was hosted by Ecomotion, a community organization catering to Israeli startups in the areas of transportation, smart cities, and logistics.
He said that blockchain technology is attractive because it allows for transactions to be conducted with "transparency" and "immutability." Sinram's blockchain team works on projects with business units across the Volkswagen family, including luxury sports car subsidiary Porsche and the group's financial services arm. He provided an overview of five pilots currently in the works. The project that seems furthest along is a service known as "Digital CarPass." It is like a report card for a vehicle that uses a distributed ledger to ensure data such as mileage is reliable. For the development of the technology, Volkswagen tapped the Iota Foundation, a Berlin-based nonprofit and one of the best-known initiatives in the crypto community. Sinram said that CarPass will be launched in early 2019. He also talked about a software tool announced by Porsche in February that would allow multiple people to share and manage access to the same a vehicle. In another application of blockchain, Sinram's team is developing an open ledger to track the supply chain of cars from manufacturer to customer. Another project is a "charging protocol" for electric vehicles that runs on the Ethereum network designed by Energy Web Foundation, which is similar to Iota but focuses on applications of crypto in the energy industry. Sinram also presented a project focused on documenting the software code that's embedded in particular vehicles. In the example he gave, "if there is an accident, blockchain allows us to document and prove the current software version of the car. We have public proof of data integrity." Potentially, this kind of technology can provide a response to the company's diesel emissions cheating scandal, in which Volkswagen has admitted to programming the engines of some models to produce lower than normal emissions when the vehicles were tested. Sinram's presentation lasted for about fifteen minutes and afterward he took questions from the audience which packed the events the space of a WeWork space in one of Tel Aviv's new high rises. Responding to a question about the possibility of shared ownership of autonomous cars, Sinram said Volkswagen is "open to what our customer needs."