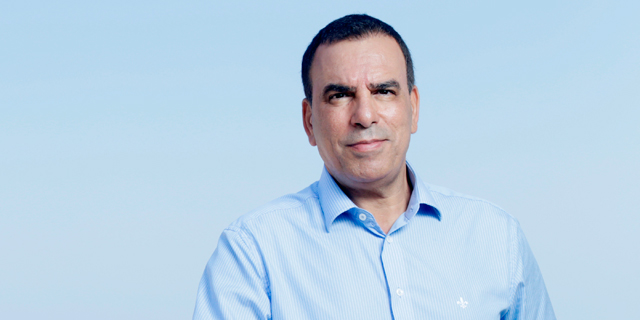 Interview
Between Clashing Stakeholders, Telecom Italia CEO Ploughs Ahead
Israeli-born Amos Genish is banking on investment in 5G to carry the company into a future of less debt and better returns
Diana Bahur-Nir
|
07:57 17.07.2018
Amos Genish's position at the helm of Italy's biggest phone group is one of the only things that the clashing stakeholders of Telecom Italia SpA (TIM) can agree on. With annual sales of around 20 billion euros in 2017 and nearly 60,000 employees, the company is one of the largest telecommunications companies in the E.U. In addition to a bitter struggle over board positions, TIM is carrying a heavy load of almost 30 billion euros in adjusted total gross financial debt, as of March 2018.
For daily updates, subscribe to our newsletter by clicking here.
Genish was picked for the job in September 2017 by French media group Vivendi SA, which has a stake of nearly 24% in TIM. Activist investor fund Elliott Management Corporation, which holds almost 9%, decided to keep Genish in the position.
"I'm the first non-Italian CEO of the company," he said. "I don't come from the old boy's club. When I represented Vivendi, I got everyone's support. With the new super-independent board, I needed to adapt to a new reality," he said.
The fourth of 12 siblings, Genish grew up in one of Israel's poorest neighborhoods, in Netanya, a coastal town located north of Tel Aviv. The family lived in a one-bedroom apartment until he was six, with a wardrobe separating the parents' bedroom from that of the children. In the ninth grade he was sent to a Jerusalem boarding school, a move he describes as a turning point in his life. After serving as an officer in the Israeli armored corps and studying economics and accounting at Tel Aviv University, he joined Israeli software company Edunetics Ltd., eventually working his way up to CEO and leading its IPO on Nasdaq. While living in the U.S., Genish met Joshua Levinberg, a co-founder of Israeli Gilat Satellite Networks, who made him an offer to help launch an alternative telecommunications operator in South America. First a division under Gilat, the company was later spun out as Global Village Telecom (GVT), and in 2007 Genish listed it on the stock market in Brazil, raising $480 million. After a brief competition between Vivendi and Spanish telecommunication provider Telefónica S.A., Vivendi acquired a 58% stake in GVT in 2009, according to a company valuation of $4.2 billion. A year later, Vivendi acquired the remainder of the company, asking Genish to stay as CEO. In 2014, Genish facilitated the sale of GVT to Telefónica—with Telecom Italia also in the running as an interested buyer—netting Vivendi 7.5 billion euros. GVT was placed under Telefónica subsidiary Telefônica Brasil, with Genish installed at the helm of the latter. Vivendi came calling in January 2017, and Genish left Brazil after 15 years to join the media group, first as its chief convergence officer and later as TIM's CEO. Vivendi acquired its stake in TIM in 2015, and with the backing of other investment funds has managed to appoint two-thirds of the company's board by 2017, losing two CEOs in the process. In March, Elliott launched an offensive to wrest control of the board, managing to appoint 10 out of 15 board members in May. At the time, Genish thought he should step down, he recalls. As he tells the story, Elliot founder Paul Singer called and asked him to stay. Genish sought advice from Vivendi's president, Vincent Bolloré, who asked him to agree. "We lost the board, we don't want to lose the CEO. Stay," Genish recalls Bolloré as saying. The entire board backed Genish and the three-year strategy he outlined in March, as did almost all of TIM's shareholders. The conflict came into the fore again in June, when Genish publicly accused unnamed board members of feeding the media with "untrue, unreliable, speculation." After he issued an apology, the board reaffirmed its support for him. "I made a comment the board did not like for the right reasons, and I apologized," he said. "Leaks to the media are not conducive for work, but I should not have released that statement. Some things best be kept private." Genish calls the public gaffe a "part of a learning curve." His relations with Elliot fund are "excellent," Genish said in at the interview. The fund has offered him "nothing but support," he further said. TIM's stock has dropped around 52% since its November 2015 peak, and around 23% since Genish was appointed. Two main factors are weighing the stock down, according to Genish: the global downturn in the telecom sector in 2018, and a negative trend on Milan's stock market due to the results of the Italian election that followed the parliament's dissolution in December.
Genish sees a measurement of his success in a financial ratio known as s debt to operating profit A ratio of 2.5:1 would be ideal for him. A lower ratio, he said, represents a "less than maximal resource utilization." The ratio at Telecom Italia is around 3:1. He points to the higher 5:1 ratio at French telecommunication provider SFR. The ratio at Telecom Italia, according to Genish, "is a bit high, but not as high as SFR's." He does acknowledge that in absolute terms, Telecom Italia's debt load is significant.
"I've stepped in as CEO less than 11 months ago. In such a short time frame, it's not possible to change the entire structure (of a company). The institutional investors are backing me and the business strategy, and I'm convinced that the stock's value will shift," Genish said. The global telecom industry has been heading towards revenue stagnation for the last few years, according to Genish. "Look at Free in France. The competition is fierce, not just in terms of 'Giga for your buck,' but in terms of differentiation: everyone is making huge investments in networks, upgrading infrastructure, and in the end, the quality is almost the same."
Investors are not seeing a cash inflow, or dividends from their investments, Genish said, and thus have increasing questions about the future. "They want to see a change in the business model," he explained.
"Currently, their biggest hope is the opportunities that will emerge once 5G reaches the market. It's a technology that will enable us to enter a new world of products and services: the question is whether we will manage to take part in developing those products instead of just being a conduit. That's the telecom companies' biggest gamble. If we miss this chance, the industry will be in a lot of trouble."