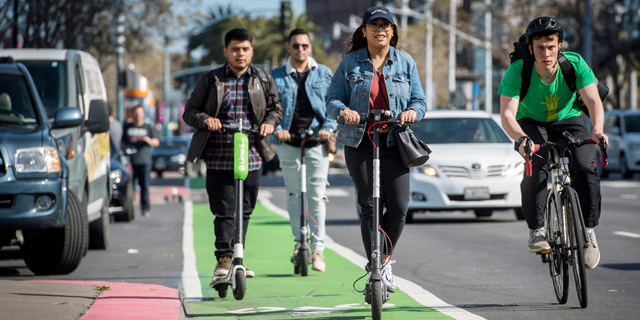 Electric Scooter-Sharing Company Bird Expands to Tel Aviv and Paris
Despite some limiting legislation, electric scooters are extremely popular in Israel, especially in Tel Aviv's busy streets, where most local and international tech companies operating in the country choose to set up shop
Tomer Hadar and Tofi Stoler
|
11:15 01.08.2018
Los Angeles-headquartered electric scooter-sharing company Bird Rides Inc. will launch a pilot program in Tel Aviv within the next few weeks, as the first step in its global expansion strategy, the company announced Wednesday. The company also announced a pilot program in Paris.
For daily updates, subscribe to our newsletter by clicking here.
In Tel Aviv, the service will first be offered through Tel Aviv University's student union, and will gradually expand to other parts of the city and the country as the average number of rides per vehicle grows, the company said in a statement.
In Israel, electric scooters are legal and extremely popular, especially in Tel Aviv's busy streets where most local and international tech companies operating in the country choose to set up shop. Local law requires scooter users to wear helmets, abide by general traffic laws, and only ride on bicycle lanes, or on the right side of the road when those are unavailable. When crossing the street, scooter and bike users must descend from their vehicle and cross by foot. In 2017, Tel Aviv announced it was increasing its enforcement of traffic laws in regards to electric two-wheeled vehicles, with fines of up to NIS 1,000 (approximately $272) for transgressions.