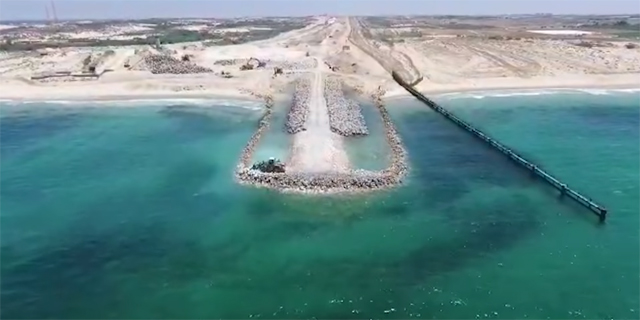 Israel Releases Footage of Gaza Sea Barrier
Currently under construction, the 200-meter long 50-meter wide barrier is scheduled to be completed by the end of 2018
Tofi Stoler
|
17:36 07.08.2018
Two months after its construction began, earlier this week, Israel's Ministry of Defense released first footage of the sea barrier it is building along the country's border with Gaza. The 200-meter long 50-meter wide barrier is located near Zikim, a kibbutz bordering Gaza in Israel's south. A 6-meter high fence and additional security measures will be installed on the barrier by the end of 2018, the ministry said in a statement.
For daily updates, subscribe to our newsletter by clicking here.
The barrier is being built in the location where during the Israel-Gaza conflict in 2014 the Israeli military killed a group of Hamas militants it claimed had infiltrated Israel by diving from Gaza. Violence between the Palestinians and Israel has gained momentum late March, when Gazans started marching towards the fenced border with Israel in a series of protests calling for the right of Palestinian refugees to return to their lands in Israel.