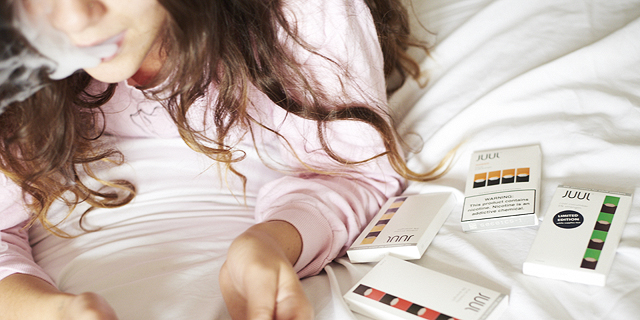 Juul Petitions Israeli Supreme Court to Overturn Marketing Ban
On Tuesday, Israeli Prime Minister Benjamin Netanyahu signed off on the ban the country's ministry of health promoted against the e-cigarette
Moshe Gorali
|
09:30 24.08.2018
E-cigarette developer Juul Labs Inc. has filed a petition with the Israeli Supreme Court to overturn a ban instituted against the company's products in Israel. Israeli Prime Minister Benjamin Netanyahu signed off on the ban Tuesday, after a three-month push by the country's ministry of health and deputy health minister Yaakov Litzman.
For daily updates, subscribe to our newsletter by clicking here.
The ministry stated it is opposed to any product with a nicotine content of over 20 mg. A Juul nicotine pod of the type sold in Israel contains 59 mg of nicotine, though the company does sell pods with reduced nicotine content in the U.K. to comply with European regulation.
Litzman was previously criticised for approving Philip Morris' e-cigarette IQOS in 2017 without any restriction, going against the recommendation of Israel's attorney general and several of Israel's leading medical associations. In the petition, Juul claims that scientific evidence shows that e-cigarettes are much less harmful than regular cigarettes, which are not banned in Israel. The company also states that the U.S. Food and Drug Administration approved the product in the U.S. and pushed the decision regarding Juul regulation to 2022. The FDA sent Juul a formal request earlier this year for company documents about issues such as product marketing and youth initiation, to determine whether the company marketed its products to teens.