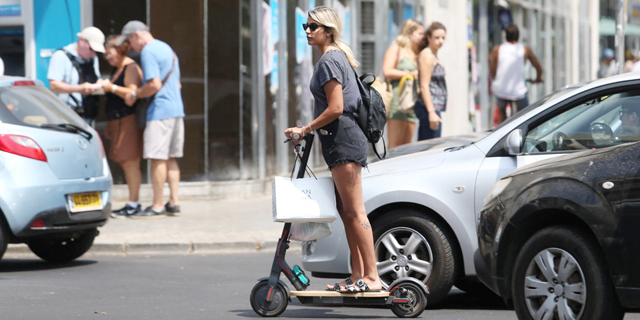 As Electric Scooters Take Over the World, Tel Aviv Stands First in Line
From tech workers to hipster moms, the electric scooter is fast becoming the new transportation mode of choice of Tel Aviv residents
Diana Bahur-Nir
|
13:43 30.09.2018
Rothschild Avenue, one of Tel Aviv's central traffic arteries, is jammed. A line of vehicles has been stuck here for over ten minutes on a standard, end-of-August morning, waiting for salvation. Meanwhile, at least a dozen electric scooters zip by, driven by a variety of characters: a bearded hipster; two tech workers with their employee badges fluttering in the wind; a young woman, tattooed from head to toe and sporting a bright pink helmet; a lawyer stuffed into a tight suit. A representative sample of Tel Aviv's populace.
For daily updates, subscribe to our newsletter by clicking here.
Here in Tel Aviv, the electric scooter is fast becoming the new transportation mode of choice. This modest vehicle, which weighs, on average, 12 kilograms and has a speed limit of 25 kilometers-per-hour, is steadily becoming an alternative to both bicycles and motorcycles.
Earlier this month, Uber CEO Dara Khosrowshahi announced that the ridesharing giant is pivoting into scooter sharing. Uber's announcement came two months after its competitor, ridesharing company Lyft, announced it was entering the scooter sharing business as well.
Uber and Lyft are not alone. A slew of companies joined the scooter business over the past year, to immediate success. Bird, founded in 2017, has broken the record for the fastest company to achieve Unicorn status, in just eight months. A little over a year since its launch, Bird is already worth some $2 billion, and is active in more than 40 cities worldwide, including Tel Aviv, where it launched in mid-August. Tel Aviv is the second non-U.S. city to host Bird, after Paris. In a recent interview, Patrick Studener, vice president of Bird, told Calcalist that during Bird's 30 days of activity in Paris, the city's CO2 emissions were reduced by 50 tons. "The bigger the city, the greater potential impact," he said. Bird's main competitor is Lime (listed as Neutron Holdings Inc.). Since it was founded in 2017, it has raised $467 million from investors which include Uber and Alphabet. Lime is active in 70 cities worldwide and is valued at over $1 billion. Other players in the field are dockless bike-sharing company Jump Bike, listed as Social Bicycles, Inc., acquired by Uber for an estimated $250 million in April; dockless shared electric scooter company Spin, registered as Skinny Labs Inc.; and dockless shared electric scooter company Skip, registered as Waybots Inc. Many question the inflated valuation of the scooter hawkers, but even they cannot deny the growing demand for the product—and the potential revenues if the demand continues to grow. In a May column, Crunchbase News editor Alex Wilhelm did the math behind Bird's $1 billion-valuation, calculating average ride costs and the number of rides as reported by the company in its published performance results. Bird had just reached 1 million rides the month before.
Based on his math, Wilhelm determined that if the company's growth trajectory continued, it could justify a $400 million valuation. "It's far harder to square a $1 billion valuation, however," he wrote.