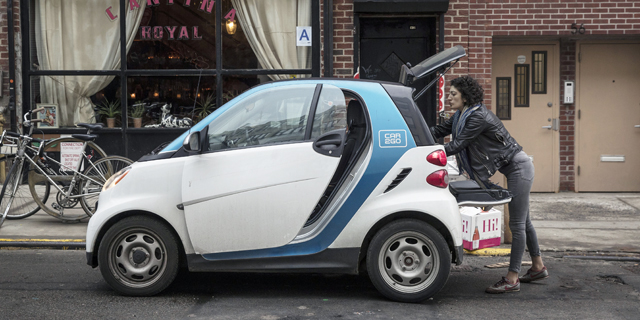 Analysis
Car-sharing: Vancouver Vs. Tel Aviv
Vancouverites use car-sharing. Tel Avivians use scooters, privately owned cars, and partially dysfunctional public transportation
Adi Pick
|
12:44 18.10.2018
Vancouver, Canada is the car-sharing capital of North America. As a Vancouverite that just moved to Tel Aviv, I found the comparison between the two cities striking when it comes to private car ownership alternatives. Public transportation in Israel shuts down on Shabbat, which amounts to a day and a half a week. Combined with the extremely high cost of buying a private car in the country and the lack of available parking spots, a robust car-sharing program in the greater Tel Aviv area makes a lot of sense.
For daily updates, subscribe to our newsletter by clicking here.
An OECD survey published in March stated that Israel has a massive infrastructure deficit, particularly regarding public transportation, which causes immense traffic and poorer air quality. In Israel, 69% of employed people drive to work, and only 21% take public transportation, according to a report published by Israel's Central Bank in 2017. Moreover, according to the report, those in Israel who depend on public transit usually belong to a lower socioeconomic class, reinforcing the conclusion that most Israelis who consistently use public transport do so due to lack of choice. When it comes to alternative options for getting around, existing car-sharing services in Israel such as Car2go or Autotel have a lot of shortcomings that can be addressed by looking at Vancouver.
There are 4.22 car-share vehicles per 1,000 people in Vancouver, more per capita than anywhere else in North America, according to Vancouver's credit union Vancity. In some neighborhoods, up to five percent of all cars on the road are car-share vehicles. Given that the population of Gush Dan is about 3.9 million, the equivalent would come to a whopping 16,685 car sharing vehicles in the region. In comparison, Autotel has 260 vehicles currently in Tel Aviv.
Moreover, the City of Vancouver has introduced legislation to incentivize the use of car-sharing. Vancouver allows members to park the car-share vehicles in all residential parking spaces, including permit only ones. Developers can replace five regular parking spaces with one car-sharing parking space, meaning they can use the additional space for other uses. Unlike Car2go in Tel Aviv, you can park the car in almost any legal parking spot, not only ones specified for car sharing or the location it was picked up from. Users only pay for the duration of the use, by the minute.
Because of the saturated amount of cars in the city, about one in six Vancouverites has a car-sharing membership. Providing a denser network of car-sharing vehicles increases the reliability and convenience of the service, something that Tel Aviv and the surrounding areas desperately lack and is necessary for people to transition from private vehicle ownership to car-sharing. 25% of Vancouver's surveyed car-sharing users stated that they got rid of at least one private vehicle, while 40% avoided acquiring a private vehicle because car-sharing was enough to fulfill their needs. If the same were to happen in the greater Tel Aviv area, this could significantly ease congestion on the roads.
There are several business models for car-sharing, all of which could be implemented locally. Some car-sharing models are by the hour, three-hour, or daily, similar to Car2go in Tel Aviv. Others pay by the minute—the Vancouver rate equates to NIS 0.90 per minute. Moreover, by using car-sharing vehicles, one does not have to worry about filling up gas or ever paying for car insurance, as those are already included in the usage fees. That being said, many of Vancouver's car-sharing vehicles are hybrid.
For car-sharing to be successful in Tel Aviv and its surrounding areas, however, the municipalities in the region need to implement incentives that will encourage car-sharing companies to bring their fleets to Israel. The amount of vehicles needs to be upped drastically, and the restrictions around such vehicles need to be eased.