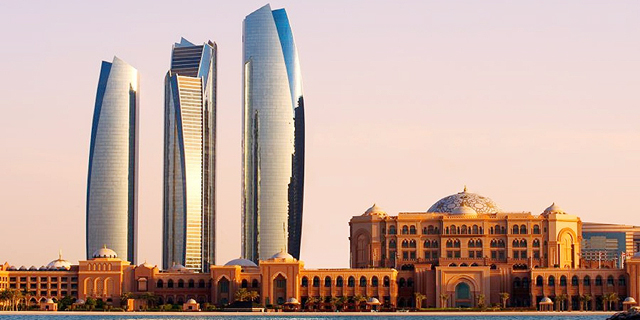 Long Hidden Ties Are Made Public as Israeli Officials Descend on Gulf States
For years held under the radar, relations between Israel, Oman, Qatar, Bahrain, and the UAE have suddenly become an official matter, with no less than four official state visits in October alone. The Israeli anthem was played for the first time in Abu Dhabi
Adi Pick
|
18:21 12.11.2018
For years held under partial secrecy, Israeli ties with Gulf states have taken a very public leap forward in the last two weeks, with a bevy of official state visits.
For daily updates, subscribe to our newsletter by clicking here.
Speaking at an Israeli innovation summit in late October, Israeli Prime Minister Benjamin Netanyahu hinted that nearby states are cozying up to Israel. The next day, he already made an unannounced visit to Oman, becoming the first Israeli official to publicly visit the country in more than two decades.
Despite no strides towards peace with the Palestinians, over the last month Oman, Bahrain, and the United Arab Emirates made gestures toward Israel.
Israel's transportation minister, Yisrael Katz, visited Oman last week, presenting a plan to build a railway linking Israel, Jordan, Saudi Arabia, and the Gulf states. Commodities coming in from Turkey currently pass through Israel on their way East, and a railway connecting Israel with its neighboring states can boost trade. It seems unlikely that any such plan would be turned into reality in the near future, and past claims by the Israeli minister about conversations held with high-ranking Arab officials went uncomfirmed by his counterparts.
Referencing the visit, U.S. Assistant to the President and Special Representative for International Negotiations Jason D. Greenblatt, wrote that the visit supports U.S. efforts. "Let's keep the dialogue going," Greenblatt tweeted.
Oman is not the only Arab country making strides towards a better relationship with the Jewish state.
Israel's national anthem was played publicly for the first time in an official event on the Arabian Peninsula in the United Arab Emirates last week when two Israeli Judokas won gold at the Abu Dhabi Grand Slam. Israeli Minister of Culture Miri Regev, watched teary-eyed and was given the honor of awarding the medals for one of the five categories swept by Israel. Last year, Israeli Tal Flicker won gold at the same venue, and the International Judo Federation's anthem was played instead of Israel's anthem. Regev was the first Israeli official to be given a tour of Abu Dhabi's grand mosque.
Druze Israeli communications minister, Ayoub Kara, called for "peace and security" during a visit to the UAE in late October.
Away from the public eye, ties between the countries have been gaining momentum for quite some time. Both sides were drawn closer as worries of increased Iranian dominance in the region intensified, especially since the war in Syria began.
While business ties across several sectors, especially diamond trade, have been ongoing, special attention was given to homeland security projects and trade in cybersecurity software, according to numerous Israeli executives and several media reports.
Israeli contractor Logic Industries Ltd. employed hundreds of employees building the homeland defenses of Abu Dhabi between 2009 and 2014. Other Israeli companies have been operating in the region through subsidiaries registered outside of Israel.
Israel-based cybersecurity firms aided Saudi Arabian Oil Co., known as Saudi Aramco, in dealing with the fallout of a 2012 cyber-attack, former member of the Israeli parliamentary foreign affairs and defense committee Erel Margalit said in 2017.
Spyware by Israeli cyber surveillance company NSO Group was found to have been used in 45 countries including the UAE, Saudi Arabia, Egypt, Jordan, Lebanon, Qatar, and Oman, according to a report published in September by Toronto human rights research group, Citizen Lab.
In comments sent to Calcalist, Bill Marczak, a senior research fellow at Citizen Lab, said that countries listed in the report were the location of specific targets, not implying that "the government of that country is using the spyware."
Qatar, a Gulf country which is currently being boycotted by Saudi Arabia among other Arab brethren due to its close ties with Iran, is also revamping its unofficial relations with Israel.
On Saturday, Lebanese news outlet al-Akhbar reported that Israel and Qatar have agreed to establish a sea crossing between Cyprus and the Gaza Strip as part of Egyptian-mediated talks.
A spokesperson for the Israeli Ministry of Foreign Affairs said he has "no information about the subject."
Netanyahu also confirmed that Qatar will be funding the salaries of Palestinian civil servants in Gaza, with a sum of $90 million to be given in monthly installments over six months. The transfers came after Israel allegedly allowed in Qatari fuel to Gaza's sole power station.
Earlier this week Netanyahu said Qatar's involvement in Gaza was required to "prevent a humanitarian catastrophe."