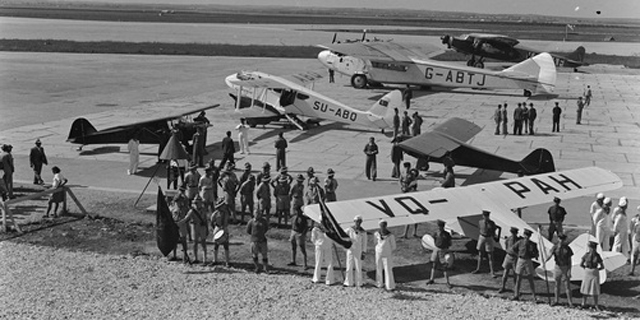 Historic Photos Predating Israel Set Free by Wikimedia
28,000 public domain photos taken from Israeli archives are now available through the open content company's online platform
Omer Kabir
|
12:18 14.11.2018
28,000 public-domain photos extracted from public and private archives in Israel are now available on Wikimedia Commons. The media sharing platform operated by San Francisco-headquartered nonprofit The Wikimedia Foundation Inc., also operates Wikipedia.
For daily updates, subscribe to our newsletter by clicking here.
The released photos include images documenting the early days of Jewish settlement in what later became the state of Israel. Examples include Jewish British Army recruits training for battle in 1941, and an outdoor Torah class in Jerusalem in the 1920s.
In order to complete the project, Wikimedia developed automatic tools to scan through the online archives, detecting images whose copyright had expired. These images were then uploaded to Wikimedia Commons' servers along with their metadata, making them freely available to the public.
The photos were all taken before 1947, putting them in the public domain according to Israeli law, which determines copyright for photographic images to be in force for 50 years from the moment of a photo's creation. All images were extracted from the archives' websites, which, though visible to anyone, were often unsearchable. In some cases, the photos were also watermarked by the archive or placed under various restrictions of use, despite their copyright having expired years ago.
Wikimedia was extra careful not to compromise the organizations' copyrights, taking a 20-year safety margin for error, Michal Lester, executive director for Wikimedia Israel, said in a phone interview with Calcalist last week. "We did not want to take any chances of hurting these companies, just give the public what it already owned," she added.
One of the main challenges Wikimedia Commons has as an organization looking to promote free and open content is to release not only information, but also photos and images into the public domain, Lester said. "We are working to convince various institutions that have online archives to open them to the public through Wikimedia Commons," she explained. According to Lester, Wikimedia successfully negotiated with Israel's Government Press Office to release its public domain photos but the company's requests were ignored or refused by the Israel State Archives, the Central Zionist Archive, and other large archives in the country.