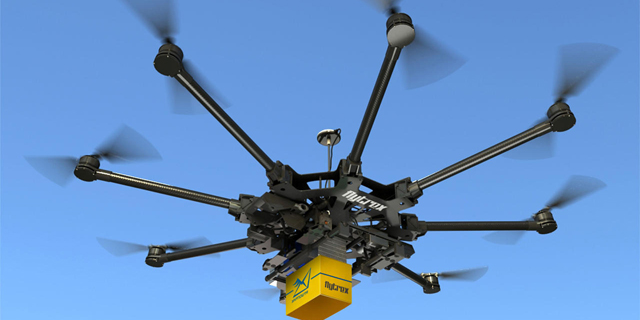 Opinion
The Commercial Drone Industry is Flying High, But It Still Has Regulatory Obstacles to Clear
Despite efforts by governments around the globe to promote drone innovation, regulatory policy has restricted the acceleration of commercial drone usage, writes Flytrex CEO
Yariv Bash
|
08:18 16.11.2018
Many of us think of drones either as highly specialized equipment used by military forces or as technologically-advanced "toys" flown by hobbyists. But drone technology is what allows us to envision a reality in which food is delivered in minutes, medical supplies are dispatched almost instantaneously, and deliveries descend from the sky to find us wherever we are. With unmanned aircraft systems (UAS) flying far beyond their military roots and into consumer markets, the commercial use of drones is on the rise.
For daily updates, subscribe to our newsletter by clicking here.
Today's fast-paced world requires fast-paced services, making drones well-suited to market's needs across key sectors. Accordingly, Goldman Sachs projected that businesses and civil governments sectors will have spent $13 billion on commercial drone technology between 2016 and 2020. Across the agriculture and construction industries, drones can impact the speed and efficiency with which buildings, infrastructure, or fields are monitored and managed. The same can be said for police, firefighters, and insurance companies, who can all use drones to accelerate civic services via quick aerial scans for risk and mapping operations, not to mention emergency response.
The technological improvements to hardware, software, sensors, and artificial intelligence in the UAS industry are enabling drones to fly faster, more accurately and efficiently, and for longer periods of time. Implementing these advances, companies like Boeing are developing stronger drones that push weight limits and can withstand tougher weather conditions. The result is a drone that can transport larger packages for commercial operations.
With drone delivery on the ascent, more and more small businesses and enterprises are allocating resources to the development of their own drone delivery offerings. This is happening across the world in countries such as the U.S., Iceland, China, and Rwanda.
Aware of the growing benefits of drone technology, governments are joining efforts to catalyze the industry. The U.S. Federal Aviation Administration (FAA)'s federal drone pilot program, which Flytrex is a part of, is an example of how U.S. regulatory authorities are collaborating with private companies to better understand the implications of commercial drones and to use that experience to propel regulatory progress. India has also developed its own drone-related legislation, while the Rwandan health ministry is teaming up with a robotics company in Silicon Valley to make crucial medical supplies more readily available, even in rural areas.
Amidst all of this progress, there have nevertheless been key limitations holding back the industry from reaching new heights.
Despite efforts by governments around the globe to prepare the runway for drone innovation, regulatory policy has restricted the acceleration of commercial drone usage. This makes perfect sense, as safety is key to ensuring expanded use and spurring public acceptance. But to encourage safe, scalable growth, governments will need to double down on efforts to form collaborative relationships with enterprises, issue sustainable operation procedures, and authorize effective traffic management systems. Key questions that must be resolved include autonomous flight policies, altitude restrictions, integrating drones into airspace regulations, and UAS operations over populated areas.
For public sector initiatives to bear fruit, the public must be convinced that drones will not only match capabilities of traditional delivery methods, but ultimately outperform them. Moreover, public and private sectors must work together to set standards that reassure the general public that a healthy drone industry can coexist with robust safety and privacy protections. Those conversations will intensify as technology becomes more sophisticated and scalable.
Given the numerous benefits drone delivery will bring–from driving down traffic congestion and reducing smog, to improving retailers' bottom lines, to meeting consumers' expectations for fast, on-time delivery–these hurdles look like temporary obstacles.
Yariv Bash is the co-founder and CEO of Tel Aviv-based drone delivery startup Flytrex Aviation. He is also a co-founder of Israeli non-profit organization SpaceIL, which set out to land the first Israeli spacecraft on the moon in 2019.