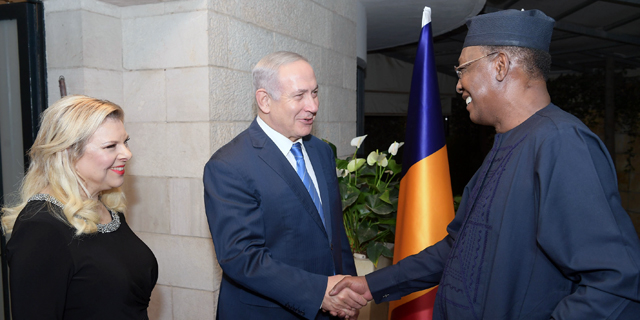 President of Chad, Netanyahu Discuss Security Cooperation
Idriss Deby, Chad's president since 1990, landed in Israel Sunday for the first- ever visit to the country by a state leader from the predominantly Muslim country
Adi Pick
|
12:20 26.11.2018
Idriss Deby, Chad's president since 1990, landed in Israel Sunday for the first- ever visit to the country by a state leader from the predominantly Muslim country. In a meeting, Israeli Prime Minister Benjamin Netanyahu and Deby discussed security cooperation between the two countries, officially halted since 1972.
For daily updates, subscribe to our newsletter by clicking here.
Located in central Africa, south of Libya and west of Sudan, Chad has a populace of about 15.8 million, of which 52% are Muslims. More than 65% of the population is less than 25 years old, according to the Central Intelligence Agency. The country's official languages are French and Arabic. Only 22% of the country's citizens are literate, and the country's GDP per capita is $777.
Authorities in Chad have arrested and prosecuted human rights defenders, activists, and journalists, and repeatedly banned peaceful assemblies, according to Amnesty International. According to Freedom House, a U.S.-based nonprofit conducting research on democracy, political freedom, and human rights, Chad scored extremely low in their 2018 report.
Years of violence by terrorist group Boko Haram in the Lake Chad area have led to a humanitarian crisis that has displaced 1.4 million children, according to UNICEF.
"We have a shared struggle against terrorism," Deby said during a joint press event on Sunday with Netanyahu.
In a press event Sunday, the Chadian leader was quick to point out that while he is striving for renewed relations between the two countries, the Palestinian issue is still of importance to the country.
The Israeli leader left questions about future and past bilateral arms trade between the country unanswered, going as far as interrupting a question on the subject addressed to Deby.
While Netanyahu avoided the topic, a Chadian government source was quoted by Reuters on Sunday stating that the president's visit to Israel is primarily "focused on security." Israel has sent arms to Chad earlier this year to assist with the fight against rebels in the country's northern region, Reuters reported citing the single source.
Israeli left-wing parliament member Tamar Zandberg urged Netanyahu to make possible negotiations of Israeli arms sales to Chad public.
"The concern is that the visit will be used for secret arms deals in which Israeli arms will be sold to persecute political opponents, human rights activists, and journalists," Zandberg said in a statement Sunday.
At the joint press conference, Netanyahu also stated that there will be more visits to Arab counties in the near future.
In October, Netanyahu hinted at warming ties with Gulf states at an innovation summit. The following day he was already in Oman. Over the last month, at least four Israeli government officials made Gulf state visits respectively.
Israeli news outlet Yediot Ahronot reported that Netanyahu aims to stabilize relations with Nigeria, Chad, and Sudan. Relations with the three African countries can shorten flights from Israel to South America, and primarily Brazil.
As of next month, LATAM Airlines will be operating a direct route from Tel Aviv to Brazil, but if the option to fly over Nigeria, Chad and Sudan will become viable, the flight time to Sao Paulo could be shortened by about three hours.