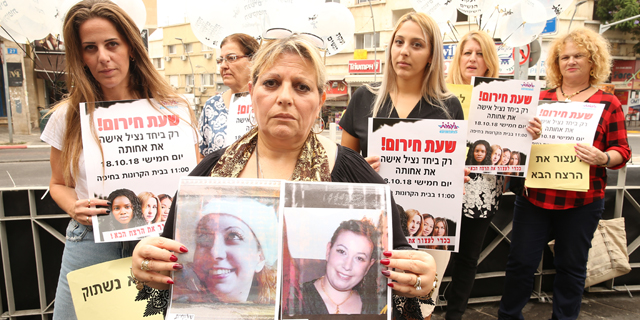 Country-Wide Protest in Israel Against Violence Targeting Women Blocks Roads, Delays Flights
Women and men across Israel are protesting Tuesday the heightened rate of violence against women in the country, which protestors are calling "a national state of emergency"
Amarelle Wenkert, Ynet News reporters
: 2018-12-04T19:21:51..
Women and men across Israel are protesting Tuesday the heightened rate of violence against women in the country, which protestors are calling "a national state of emergency." Across the country on Tuesday morning, protestors mobilized by local human rights organizations and social media campaigns were encouraged to walk out, demonstrate, and block roads for 24 minutes in memory of the 24 women and girls murdered this year in various acts of domestic and gender-based crime.
For daily updates, subscribe to our newsletter by clicking here.
Throughout the country, spontaneous acts of civil rage took place alongside planned actions such as public art installations, marches, and demonstrations. Demonstrators blocking roads in the vicinity of Israel's Ben Gurion airport were cause for delayed flights. Major traffic arteries were blocked in Tel Aviv, Jerusalem, and other cities.