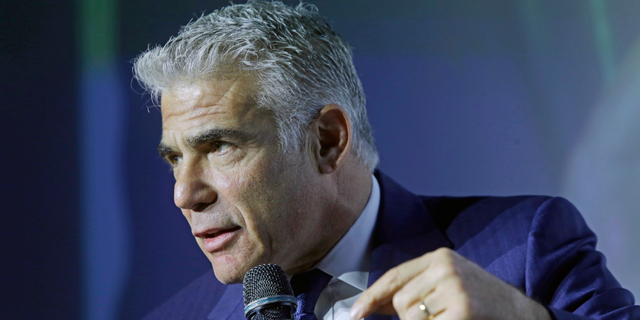 Forecasts 2019
No Such Thing as Center-Left Bloc, Says Israeli Lawmaker
Yair Lapid, leader of Israel's Yesh Atid party, spoke Monday at Calcalist's Forecasts 2019 conference in Tel Aviv
Adi Pick
|
17:37 31.12.2018
Israeli Lawmaker Yair Lapid, leader of the centrist party Yesh Atid, turned down the prospect of a center-left alliance against Netanyahu in Israel's upcoming election. Speaking at Calcalist's Forecasts 2019 conference in Tel Aviv Monday, Lapid said that "the center will not unite with the left or with the right."
For daily updates, subscribe to our newsletter by clicking here.
Last Monday, Israel's ruling coalition parties announced a date for the country's next parliamentary elections, moving up the scheduled November elections to April 9.
However, Lapid did not outright reject other mergers. "It is conceivable that there may still be connections between the center itself, but not beyond," he said Monday.
Former Israeli army chief Benny Gantz, who launched his own political party Hosen L'Yisrael (resilience for Israel) last week, has not publicly stated his views or political platform, but it is expected that he will identify as a centrist. Gantz left the military in 2015 after commanding over Israel's operations in the Gaza war over the summer of 2014.
Without combining forces, Yesh Atid is expected to garner 12 - 16 seats, and Gantz' new party between 13 - 15 seats. The Zionist Union is expected to drop from the 24 seats it has in the current Knesset, to 8 - 9 seats, depending on the poll.