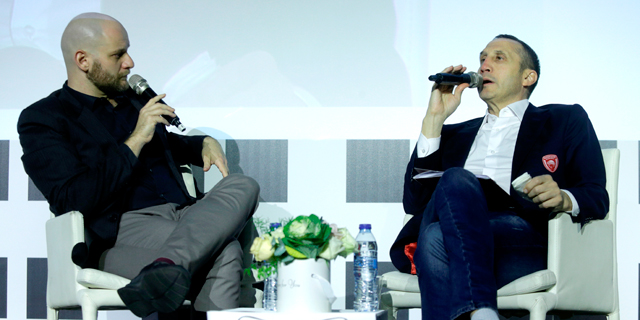 Forecasts 2019
Former Cavaliers Coach David Blatt Predicts a Great Year for Dallas Mavericks Rookie Luka Dončić
Blatt said Dončić will be named 2019's Rookie of the Year, blasting ESPN commentator Stephen A. Smith as "clueless" for favoring DeAndre Ayton early on
Ouriel Daskal
|
18:20 02.01.2019
Former NBA coach David Blatt predicts that 19-year-old Dallas Mavericks player Luka Dončić will be named 2019's Rookie of the Year. "I told everyone he was the best player in the draft," Blatt said Monday, speaking at Calcalist's Forecast 2019 conference in Tel Aviv. "Stephen A. Smith is clueless at basketball," Blatt said, referring to several comments made by the ESPN commentator favoring 2018 first draft pick DeAndre Ayton. "(Dončić) is hands down the best player in the draft," Blatt said.
For daily updates, subscribe to our newsletter by clicking here.
The Israeli-American coach and former basketball player is the head coach of Greek Euroleague team Olympiacos. He coached several teams including Israel's Maccabi Tel Aviv, Turkish Super League team Efes Pilsen, and Russia's national basketball team, before being appointed head coach of NBA team the Cleveland Cavaliers in June 2014. At the time, hometown star Lebron James was still playing for the Miami Heat. In July, James returned to Cleveland.
During a quick-fire round of questions Monday, Blatt said that he does not think that 2017 and 2018 champions Golden State Warriors will take the championship again in 2019.
Asked about the future of basketball, Blatt said he forecasts basketball courts to become bigger and the baskets to be higher, adding that he hopes to see women playing alongside men.