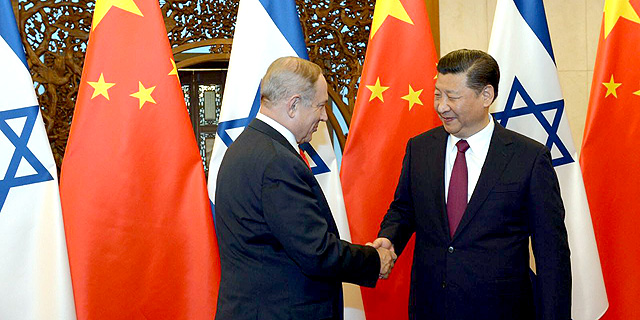 U.S. Officials Wary of Chinese Involvement in Israeli Infrastructure Projects, Tech Sector
The U.S. Deputy Secretary of Energy Dan Brouillette warned Israeli officials that the U.S. may limit intelligence sharing with the Jewish State if no steps are taken to regulate foreign investments
Adi Pick
|
17:02 16.01.2019
The U.S. Deputy Secretary of Energy Dan Brouillette warned Israeli officials that the U.S. may limit intelligence sharing with the Jewish State if no steps are taken to regulate foreign investments.
While visiting Israel, Mr. Brouillette shared the U.S. "concerns regarding certain Chinese foreign investment in Israel", according to Reuters.
Head of the Israel Security Agency Nadav Argaman warned that Israel needs to up its regulations against foreign investors in key infrastructure projects throughout the country last week.
For daily updates, subscribe to our newsletter by clicking here.
The director of the Shin Bet, as the agency is commonly referred to, said that when it comes to strategic projects Chinese influence can be "dangerous," speaking at a closed-door event held at Tel Aviv University, Israel's Channel 10 reported last Monday.
Argaman specifically referred to the China-based firms that take part in the construction of a seaport in Haifa, in the north of Israel, and in a large-scale project to build a light rail in Tel Aviv.
The Shanghai International Port Group won a government contract to build and operate the seaport for 25 years in 2015. American navy vessels dock at the port, Israel's busiest, regularly.
U.S. National Security Adviser John Bolton brought up American concerns about the contract in his visit to Israel in early January, Israel's national broadcaster Kan reported.
Over the last decade, dozens of Chinese companies have entered the Israeli market in major transportation and infrastructure projects, including the China Civil Engineering Construction Corporation Ltd. (CCECC), a state-owned company operating in Israel since 1994, contracted to dig the tunnels for the underground portions of the Tel Aviv light rail.
Governments efforts coming from both Israel and China have boosted commercial relations between the two states, generating a flow of delegations from China seeking to tap Israel's tech sector. On a visit to China last year, Netanyahu called trade relations between the two countries "a marriage made in heaven."
China, not including Hong Kong, accounts for more than 8% of Israeli exports. Israeli exports to China reached $2.8 billion in the first half of 2018, a 73% increase from 2017, according to Israel's Central Bureau of Statistics. "There is a gap between the laws in Israel and security needs in terms of overseeing foreign investments," Argaman said. The gap has the potential to turn lethal, he said, adding that new legislation is needed.