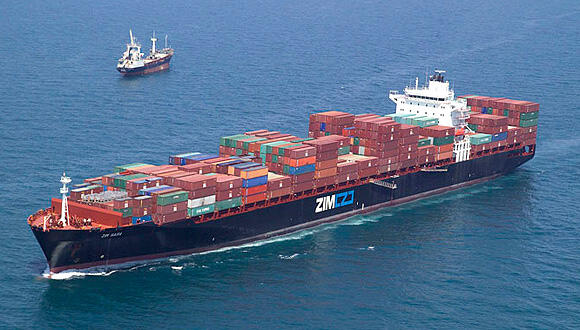 Opinion
Now That Autonomous Vehicles Are a Reality, Are Autonomous Boats Next?
With the vast majority of international trade handled by ocean-going vessels, there are huge positive consequences associated with automating all or part of this mode of transportation
Dov Greenbaum
|
18:05 23.01.2019
These days, we hear a lot about autonomous cars. Vehicles employing some combination of smart sensors and artificial intelligence have already hit the road, and more autonomous vehicles are continually being tested.
For daily updates, subscribe to our newsletter by clicking here.
When we speak about autonomous transportation, we typically refer to planes, trains, and automobiles. Commercial airline flights are handled in no small degree by autopilots, and Rio Tinto PLC, the multinational conglomerate, just unveiled its autonomous rail system for hauling iron ore in Australia.
Now, autonomous shipping is also poised to take-off. And it's about time.
With the vast majority of international trade handled by ocean-going vessels, there are huge positive externalities associated with automating all or part of this mode of transportation. Billions of tons of goods are shipped annually totaling more than a trillion U.S. dollars in cargo and representing billions in annual revenue.
In this sector, even small cost-saving measures can have huge repercussions, not only for the manufacturers and shippers but also for consumers, who are likely to see tangible savings on internationally-shipped goods, perhaps on their hot new Instant Pot.
Autonomous boats can also provide more than simple efficiencies in their ability to be operated 24/7. They can reduce many of the dangers associated with operating on the high seas. To wit: while the economic costs of piracy have been falling, due in part to greater global cooperation, the financial consequences of piracy are still staggering. They include more than a billion U.S. dollars in goods lost, as well as hundreds of millions of dollars in sunk expenditures toward private security contractors and military patrols and interventions. Not to mention the costs of shipping delays. And while Somali privateering is trending downward, Nigerian incidents, which are much more violent, are on the rise.
Autonomous boats might be better equipped to deal with these issues. For one, they remove the human cost of piracy entirely, and they can be designed to be incapable of being forced into a foreign port.
On the other hand, sophisticated pirates may be able to employ cyberterrorism means to hijack boats from afar without the concomitant dangers associated with a physical takeover of a boat. Efforts will have to be made to harden the cybersecurity of boats to prevent such attacks.
There is another interesting externality resulting from autonomous shipping: one of the greatest, albeit relative obscure scourges of international shipping is the transfer of invasive species via ballast water.
Simplistically, ballast water is the extra water taken on by a ship at one location, for example, after unloading cargo to help balance the ship, and then dumped at a second location, when the ship once loaded, no longer requires the ballast support. The discharging of ballast water at this second, foreign port will often result in the transfer of invasive species —plants, viruses, animals, and bacteria that were harbored in the ballast tanks— across the ocean. In some instances, this has resulted in economic and ecological damage to the local flora and fauna, and even, in some cases, to the local human populations.
The growing interest in autonomous shipping represents a unique opportunity for shippers to purchase redesigned boats that are not only designed for optimal autonomous sailing, but also incorporating ballast free designs. It turns out that removing the infrastructure required for human presence on a ship can actually increase the stability of a ship and limit the need for ballast water.
No matter the incentives, introducing autonomous shipping is nontrivial and the technological and legal hurdles can be vastly different than those associated with autonomous cars. Consider only the variety of laws, both in international as well as in national waters that need to be accommodated. Additionally, criminal and regulatory enforcement is complicated when there is no crew to detain or to provide access for inspection.
Currently, there are no regulations associated with the design and building of autonomous boats, nor are there procedures and standards for their operation. Given the costs of building and operating each of these vessels, the industry, which is ancient, conservative and used to long-time frames will benefit a great deal from the development of best practices, sooner rather than later, hopefully in time for the fast and cheap shipping of the next generation Instant Pot!
Prof. Dov Greenbaum is the Director of Zvi Meitar Institute for Legal Implications of Emerging Technologies, at Israeli academic institute IDC Herzliya.
Roee Furman, Danielle Gabai, and Feigue Baron contributed to this article, as did TheDOCK Innovation Hub.